Each week through the month of June we will be featuring one fascinating photo from our collection of thousands and asking you to "Caption This!" We will share a photo via Email, Facebook, Twitter, and Instagram and ask you for your funniest, wittiest, or most captivating caption. The following week we will feature the top three responses and tell you the real story behind the photo. To join in on the next contest, subscribe to our email list or follow us on Facebook, Twitter, and Instagram.
June 26 Photo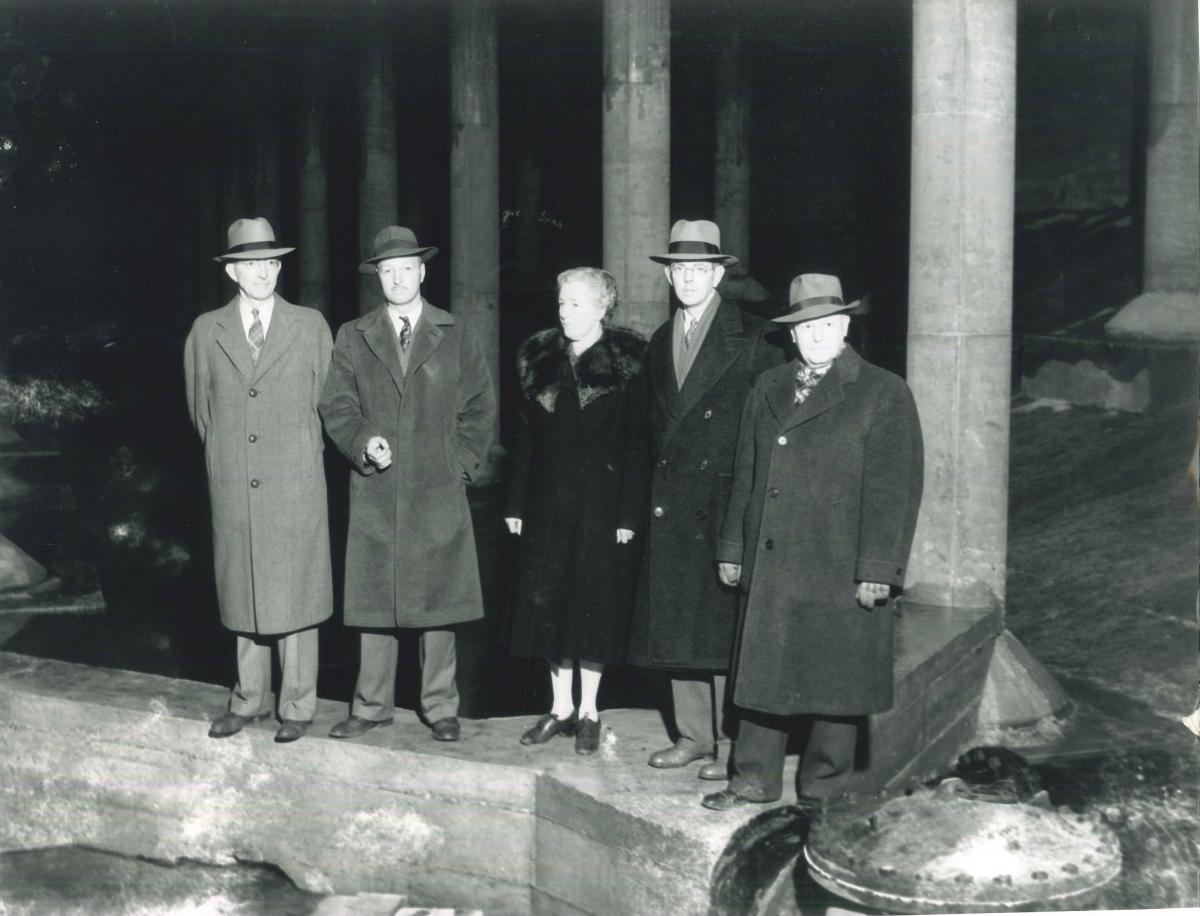 Below are the top three entries from the June 26th "Caption This!" photo contest:
1. "Isn't this where we buried the secret Twinkie recipe?"- Bill Hussmann
2. "From the depths of the Stankus Hole, a persistent mystery is finally solved: 'Hey... is that Jimmy Hoffa over there??'"- Kenn Sinko
3. "Let's make sure this pool doesn't leak, OPRFHS will have it for a long time!"- Mariannell Bassett-Dilley
All other entries:
"Where's her fedora?"- Peg Zak
"No, we don't work for the GOVERNMENT."- Joan Brennan
"What do you mean, 'swim'?"- Mark P. Donovan
"That last step is a doozy."- Debbie Mercer
"Are they making Lake Street a pedestrian mall again?"- Ronald Becker
"(Left to Right) Frank Lloyd Wright, Edgar Rice Burroughs, Betty White, Ray Kroc, and Ernest Hemingway at the corner of Lake and Harlem, waiting for flood waters to recede."- Dave Mausner
"This will be what?"- Kelly Ann
"Miss Fabersham, are you sure Elliot Ness was to meet us with the tommy guns here at Midnight?"- Bill Hussmann
"Let's wait for the other two trustees before we go in for the board meeting."- Jay Champelli
"Where's Sky Masterson?  I coulda sworn this was the place for the craps game."- Joe Champelli
"We've discovered that the Parthenon has its own swimming pool!"- Larry Osterberg
"Groundbreaking ceremony for the soon to be created Oak Park River Forest Museum."- Bill Hussman
And here's the real story behind the photo:
This photo shows an area of the village of Oak Park which is appreciated by many but rarely seen by any. This is the village's water reservoir, which lies underground near the village water pumping station, right next to Oak Park River Forest Museum! The reservoir was built in 1925 when the village began receiving water from Lake Michigan. Here is an excerpt from the Oak Leaves when this photo appeared on December 4, 1941.

"Partial view of the Oak Park water reservoir at Lombard and Lake street showing some of the spindle-like concrete columns which support the roof. The big underground basin has just been cleaned and sterilized, a job which is done every two years.
Officials shown in the photo who clambered down an iron ladder through a manhole to inspect the reservoir are, left to right, T.R. Leth, comptroller; Jay F. Hepler, village trustee; Mrs. Dorothy C. Kerr, village trustee; Robert F. McMaster, village president and Marshall S. Dutton, superintendent of the water department.
Holding five million gallons of water, the reservoir is 269 feet long, 157 feet wide and scores columns 19 feet 8 inches tall like those shown in the photo support a reinforced concrete roof upon which is the Stevenson playground."
June 19 Photo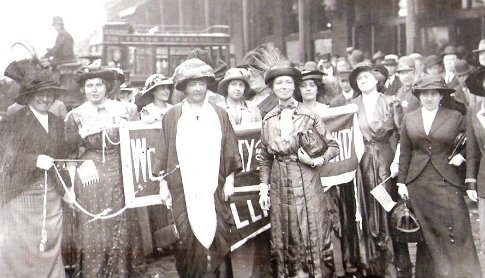 Below are the top three entries from the June 19th "Caption This!" photo contest:
1."Ain't no party like a suffragette party!"- Tracy Ito
2. "Don't let those guys get ahead of us, or we'll never get to vote!"- Jay Champelli
3. "Vote!"- Kelly Ann
And here's the real story behind the photo:
This photo was taken in 1913 as Grace Wilbur Trout (pictured in the center wearing the white stole) returned to Chicago from Springfield after passage of the Presidential and Municipal Suffrage Act. You can read more about this important piece of legislation in the online story, "Suffrage for Women Passes!" 

You can also learn more about local suffragettes in the online story "National Suffrage Parade Features Local Women," or by purchasing the book "The Woman Who Never Fails," written by Carolyn Poplett and Mary Ann Porucznik.
June 12 Photos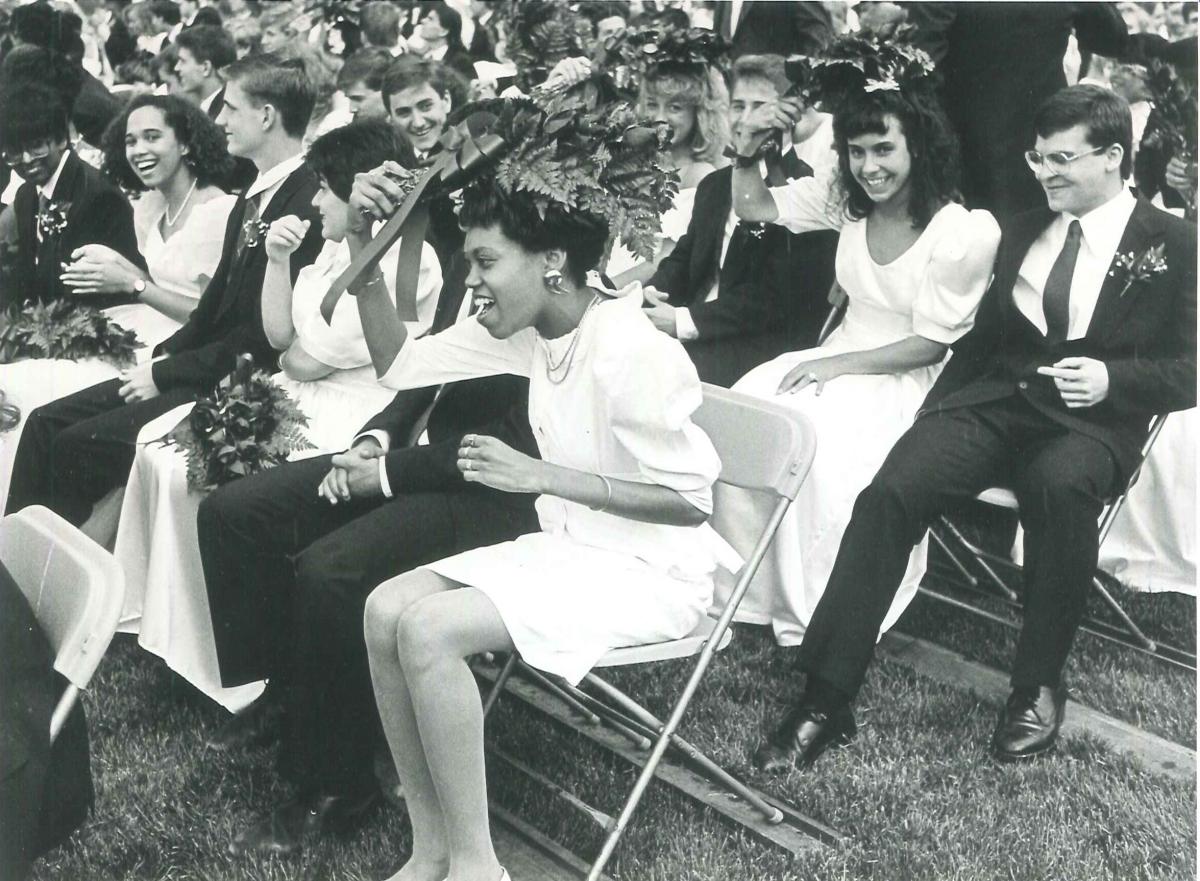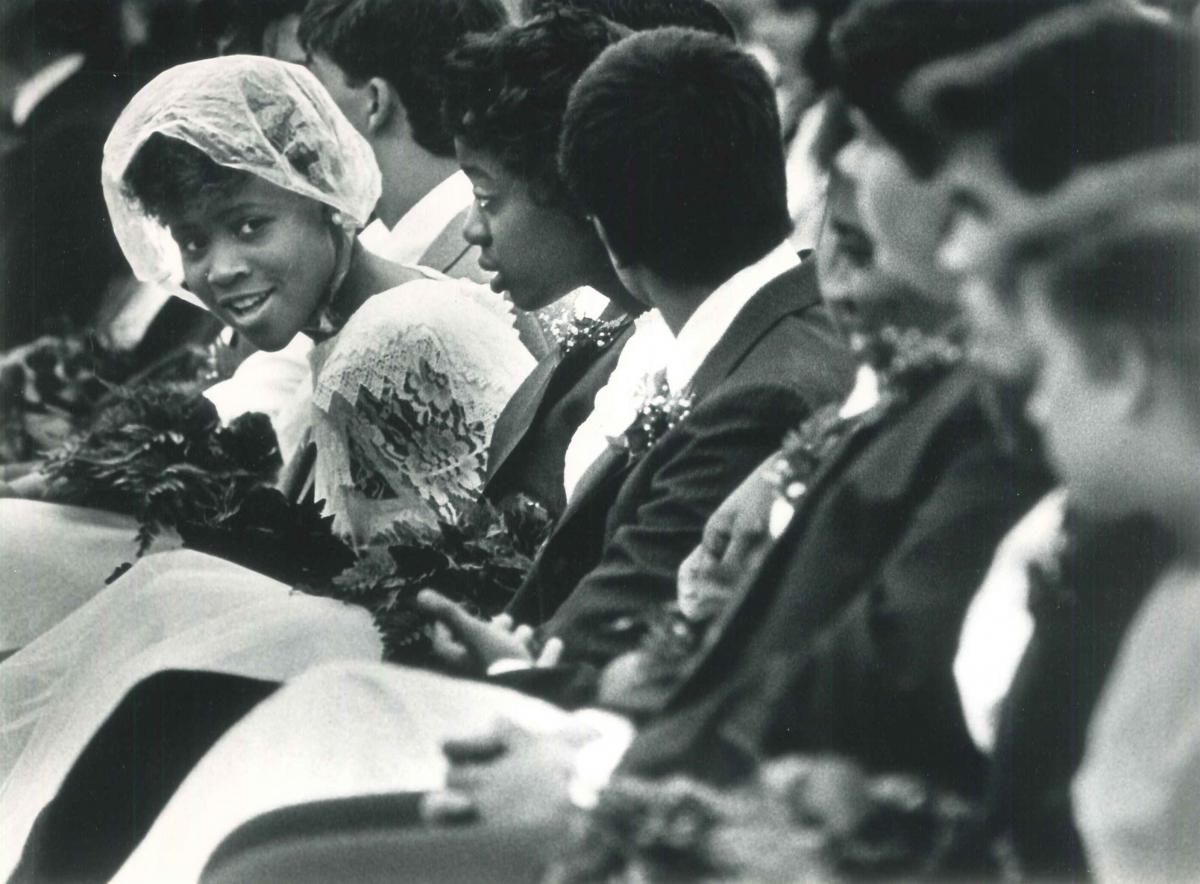 Below are the top three entries from the June 12th "Caption This!" photo contest:
Photo 1: "If you're going to OPRF graduation...be sure to put some flowers in your hair."- Carol O'Connor Ford
Photo 2: "At the party last night I I thought we agreed we would ALL wear shower caps!"- Carol O'Connor Ford
Both: "I'm not letting those flowers ruin my hair style!"- Christine Washburn Norrick
All other entries:
Photo 1: "Hey, it's too bad all you guys without glasses don't get to graduate this year!!!"- Jay Champelli
Photo 2: "First, my mom. Now, me. Later, maybe, my....."- Jay Champelli
And here's the real story behind the photos:
In celebrating our seniors, last week's "Caption This" photos showed two years of graduation ceremonies at Oak Park River Forest High School. Photo 1 is from 1990 and Photo 2 is from 1982. Both of these years were surprised with rain during the outdoor ceremony, so in Photo 1 students are using their bouquets of roses as umbrellas, and in Photo 2 one student came prepared with a rain cap.

After much debate, in 2019 the attire and location for this ceremony changed dramatically. Visit our "This Month in History" page to read more about this tradition in our online story, "They Still Wear White Dresses, Don't They?"
June 5 Photo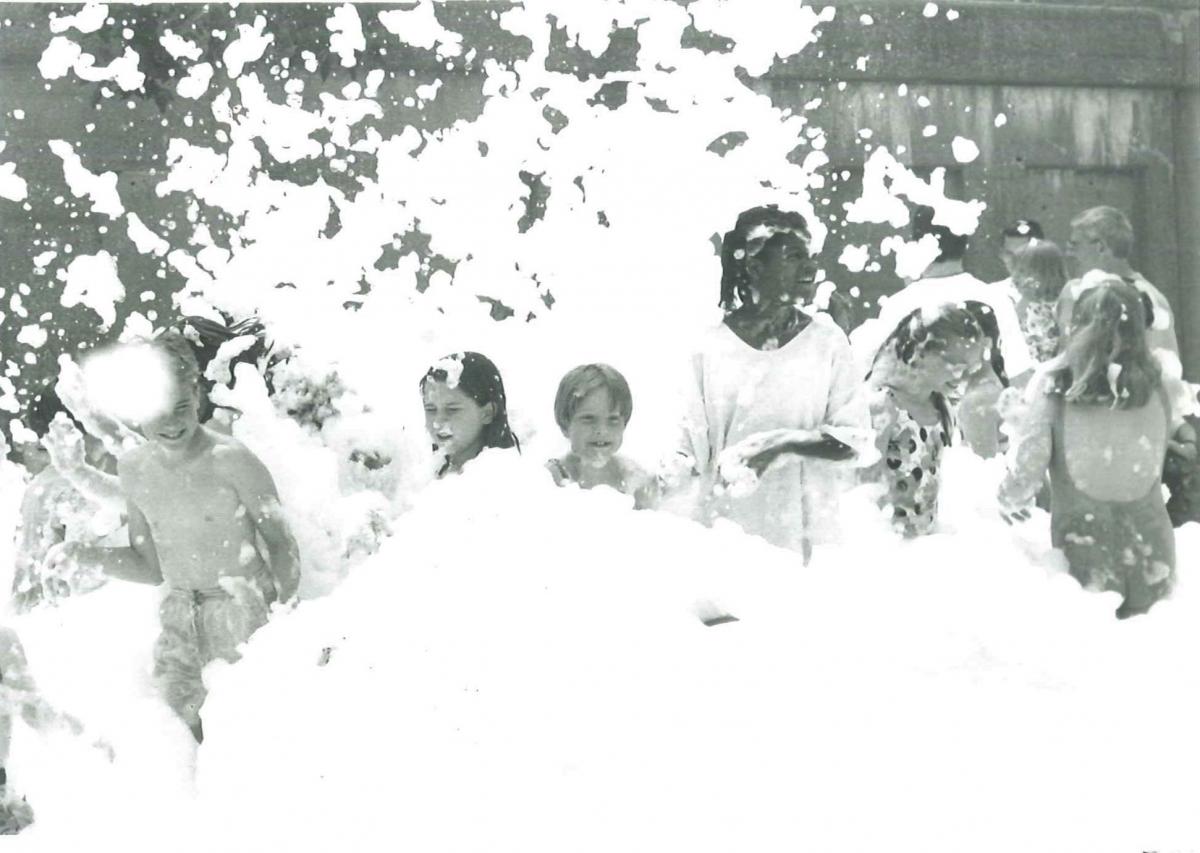 Below are the top three entries from the June 5th "Caption This!" photo contest:
1. "The children sure are enjoying frolicking in the fire department foam," said Mom to Dad at Day in our Village, "but not nearly as much fun as we had running behind the mosquito DDT truck when we were kids!"- Debbie Buckley
2. "For public pools to open, CDC recommends deep cleaning of children before and after use."- Renée Burnett
3. "A Day in Our Village, always Good Clean Fun!"- Mike Stewart
All other entries:
"Every time Billy's father does the laundry his friends come over to play."- Joe Champelli
"This is the BEST pillow fight ever"- Harold Hering
"I get having to wash our hands all the time, but this seems a bit extreme."- Renée Burnett
"FREAK SNOWFALL AT BEYE SCHOOL DUMPS 30 INCHES IN 15 SECONDS!"- Dave Mausner
"Local car wash finds alternative source of revenue."-Renee Burnett
"Wash your hands, and neck, and face and arms, etc.!"- Jan Dressel
"Too hot and missing snow? Try this foamy refresher."- Nancy Brown
"I said 'Wash your hands!'"- Elizabeth Brennan
"Foam is where the heart is."- Scott C
"Does this disinfectant really work?"- Terry Sullivan
"Wow! This is great! Hand washing and isolation at the same time!"- Jay Champelli
"Stop the bubble machine!!"- Marilyn Wardle
"OPRF students walk through required Purcell treatment as they return to classroom this year."- Bill Hussmann
"Pandemonium erupted yesterday to the delight of children nearby James Dewar's confectionery bakery, when a Twinkie filling machine malfunctioned." - Kenn Sinko  
"Someone didn't store old photos properly!"- Jan Saeger
 "Gives new meaning to Wash and Wear."- Jan Saeger
"Mom modified Laundry Stripping Instructions because she didn't want to see gross dirty water in the bathtub.  We kids are cool with it, but we think she overdid it changing detergent from 1/2 Cup to 12!!!!"- Jan Saeger
"Before Colgate-Palmolive introduced Ajax "The Foaming Cleanser" in 1947, it was tested extensively on street urchins."- Randall Thompson
"A Soap Dish in Our Village"- Laura Knitt
"Today's episode of 'Fun With Friends' is brought to you by Gillette."- Marlene Scott
"Yesterday the village dealt with a major lice outbreak by offering group delousing."- Beth Norton
"'It was so much fun,' they 'sud'."- Carol O'Connor Ford
"The grand finale of the Lawrence Welk Show."- Rachel Berlinski
"No, it's not a fire, just Firemen doing the right thing."- Joyce Proce
"NO...dishwasher soap...not Dawn!"- Thom Cullen
"Kids get caught, having fun in foam!"- Dolores Gruzalski Hill
And here's the real story behind the photo:
We're glad to see that lots of people recognized this tradition from A Day in Our Village. This photo was taken in 1993 behind Oak Park's main fire station, on North Boulevard and Euclid, where the crew would fill the street with fire extinguisher foam. (We even discovered our current OPRF Museum volunteer Frank FioRito in the background of this photo!)
A Day in our Village Chairman Michael Stewart has announced that this year's festival is going virtual. On Sunday, June 28th organizations from the community will be sharing messages on all social media platforms using the hashtag #VirtualDayinOurVillage. So save the date and follow along as we continue to come together while apart.   
May 28 Photo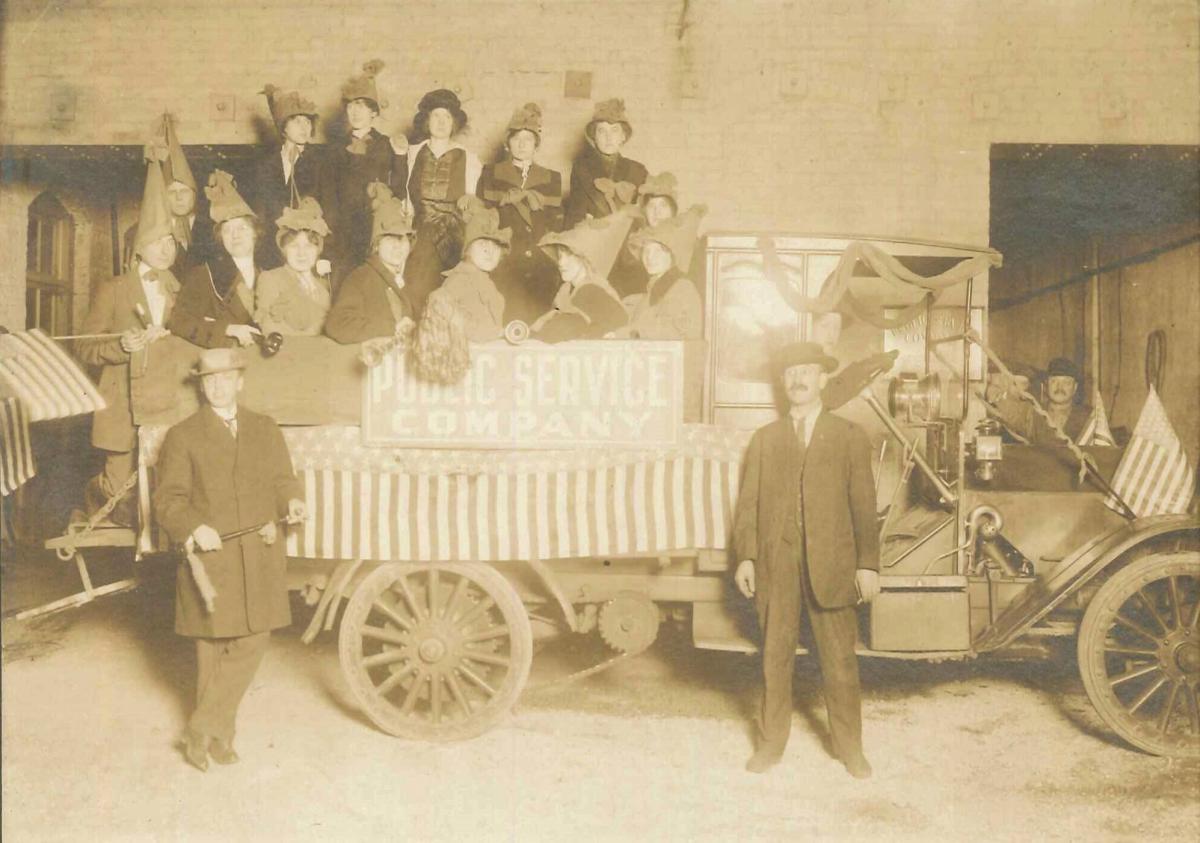 Below are the top three entries from the May 28 "Caption This!" photo contest:
1. "Making the rounds of Curb Side Pickup with the Uber driver. River Forest Chocolates, Panera, La Parrillita, some hair care products at 4U Hair and Spa, over to Cucina Paradiso and Book Table and back to Good Earth for some flowers!!!"- Jan Saeger
2. "Hogwart's Faculty Field Trip, April 1, 1918"- Marilyn Wardle
3. "Now that the parade has been cancelled, what are we going to do with these hats?"- Jay Champelli 
All other entries:
"We take care of all your weird hat needs."- Geoff Roupas
"All dressed up and nowhere to go"- Markey Walsh-Reitz, Esq.
"Hail, Hail, the gang's all here." - Carol Conboy
"SOOOO... we're all just going to ignore the social distancing memo?" - Michael Liepitz
"As a Public Service, we are proud to remove these women's hats from the streets of Oak Park."- Art Spooner
"This week's load of new mail order brides arrives at OPRF thanks to Public Service Commission."- Bill Hussmann
 "Mary had felt SURE that her oversized black mushroom hat was silly enough…"- Jon Champelli 
"Well, that's the last time I ignore a village parking ticket!  I hate these community service penalties...it's so embarrassing the way they parade you around!"- Kenn Sinko  
"Village Public Works Cuts Costs! Hires Leprechauns"-  Steve Sommers 
"We got'm boys!"- Edie Schaefer
(Lady in black hat) "Great, they left me out of the group text to wear tall hats. Now I'm gonna be the only one looking silly!"- Jennifer G
"The Very First Oak Park Facebook Group"- Emily
"Just in case this generation thinks they invented goofiness at the office." – Vince Bray
And now for the real story behind this photo:
This photo from our collection is marked "1912 Business Men's Parade, Mr. H.L. Judd Manager 'D' is in the foreground." In 1912 Judd became manager of District D of the Public Service Company of Northern Illinois, whose office was at 114 N. Oak Park Ave. and later evolved into ComEd. We couldn't find exactly what this event was, but we can say there were a lot of parades in those days! This looks similar to a parade referenced in the Oak Leaves in October 1916, which was organized as part of Trade at Home Week, inviting citizens to participate in a "big decorated auto parade reaching all parts of the community." With cars still being a novelty at that time, it would have been an especially exciting spectacle. And as one of our members pointed out, you can see near the tire that this vehicle was chain-driven. 
May 21 Photo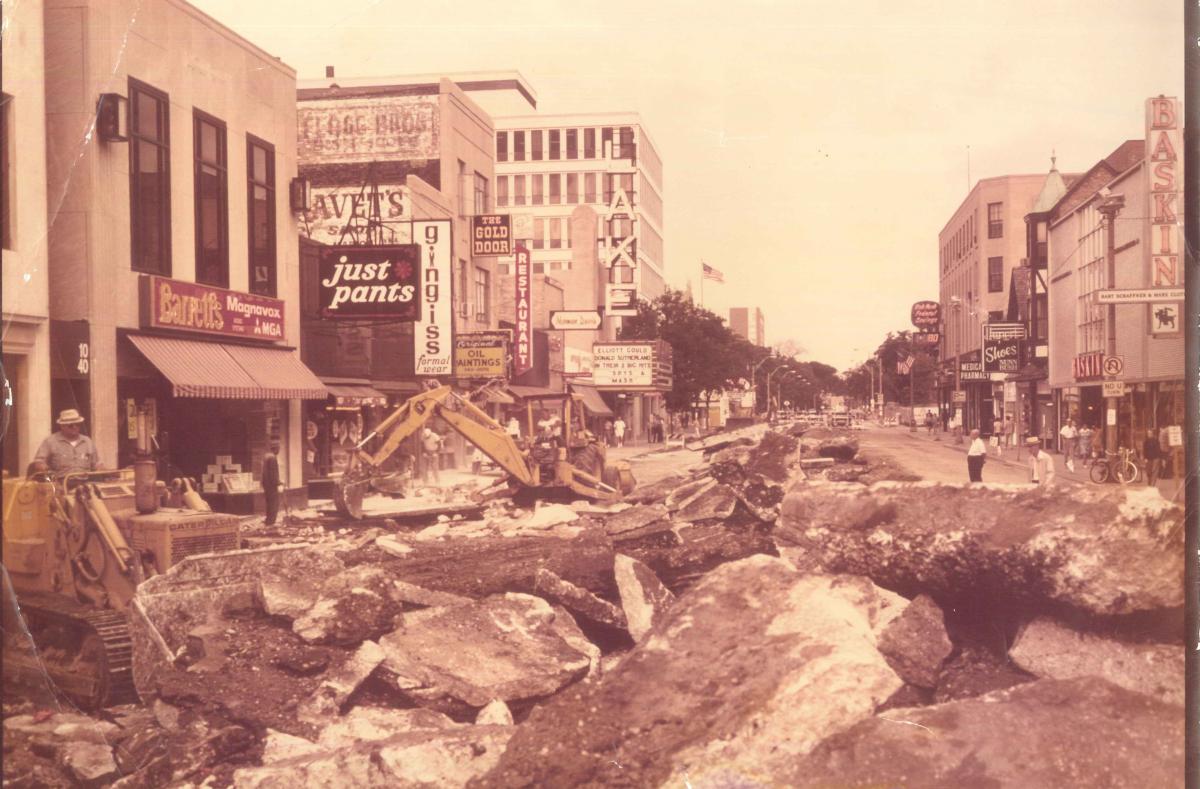 Below are the three top entries from the May 21 "Caption This!" photo contest:
1. "Wait... Stop digging! These blueprints are upside down! The Lake Street line is supposed to be an elevated railway!"- Kenn Sinko
2. "After surviving COVID-19 and floods, Downtown Oak Park is hit with an earthquake."- Beth Norton
3. "Oak Park Mall, open for all your used concrete needs!"- Dave Mausner
All other entries:
"It's Groundhog Day again on Lake St."- Mary Vostal
"Local rock group spotted on The Mall."- Mike Stewart
"When they realized the size of our cars, the aliens never returned."- Jay Champelli
"Are we putting a mall in or taking one out?"- Stephen Kelley
"To quote Yogi Berra, 'It's like déjà vu all over again!'"- Deborah Buckley
"The Mayor's search for his lost car keys reaches new heights."- Joe Champelli
"Just another semi-annual Lake Street remodeling."- Paul Oppenheim
"The Mall is coming. The Mall is coming!"- Elizabeth Brennan
"'Political' Pothole Problem Passes Previous Preposterous Proportions." – Jon Champelli
"Breaking Up is Hard to Do."- Johan Walsh
"The day before funding ran out on the Lake Street Subway."- Randy Mitchell
"Is this the way to the land of Pellucidar?"- Scott C
"Been there; done that; bought the T-shirt. Can't do that anymore."- Karen Kelly
"The Here Again Gone Again Mall."- Pamela Condon
"Chicago Transit Authority tears up its Lake Street tracks."- Donald Schilke
"They just had to mess with Lake Street."- Nancy Greco
"The Mall is going to be just great for business—really great!"- Stephanie Clemens
"After the tsunami…"- John Elliott
"Despite the sign advising otherwise, Godzilla dashed down Lake Street last night with no pants."- Nancy Staiger
"Typical Chicago winter brings on average pot hole problems for local merchants."- Bill Hussman
"'Just Pants' Bellbottom jeans wearers causing extra drag on local thoroughfares."- Bill Hussmann
"The Lake Theater premiers 'King Kong,' no one warned us he was attending!"- Jennifer G.
"Just Pants?! Hulk say I need new shirt too."- Tracy Ito
And now for the real story behind this photo:
Much has changed in the past 46 years, but the local news headlines in summer 1974 parallel those of summer 2020 in one key way: Lake Street is shut down in Downtown Oak Park for major road work. 

This photo was taken in 1974 when the concrete street surface was being carted away as part of the creation of a walk-able brick-paved pedestrian mall aimed at battling the far flung suburban shopping malls that had drawn consumers away from traditional downtown shopping districts. First proposed in 1970 and supported by a new taxing district, the Lake Street Mall was dedicated in late 1974 and spurred retail sales for a time, including headlines about retail sales increasing 10 to 20 percent for the first several years.  Multiple adjacent parking garages were also constructed. 

By the 1980s, merchants complained of declining sales and lack of visibility, even as many residents and shoppers enjoyed the atmosphere and special events that drew some to the unique, park-like setting. After much community debate, automobile traffic was returned to Lake Street by 1990, with Marion Street re-paved with bricks and vintage-inspired street furniture and re-opened to auto traffic in 2007.
May 14 Photo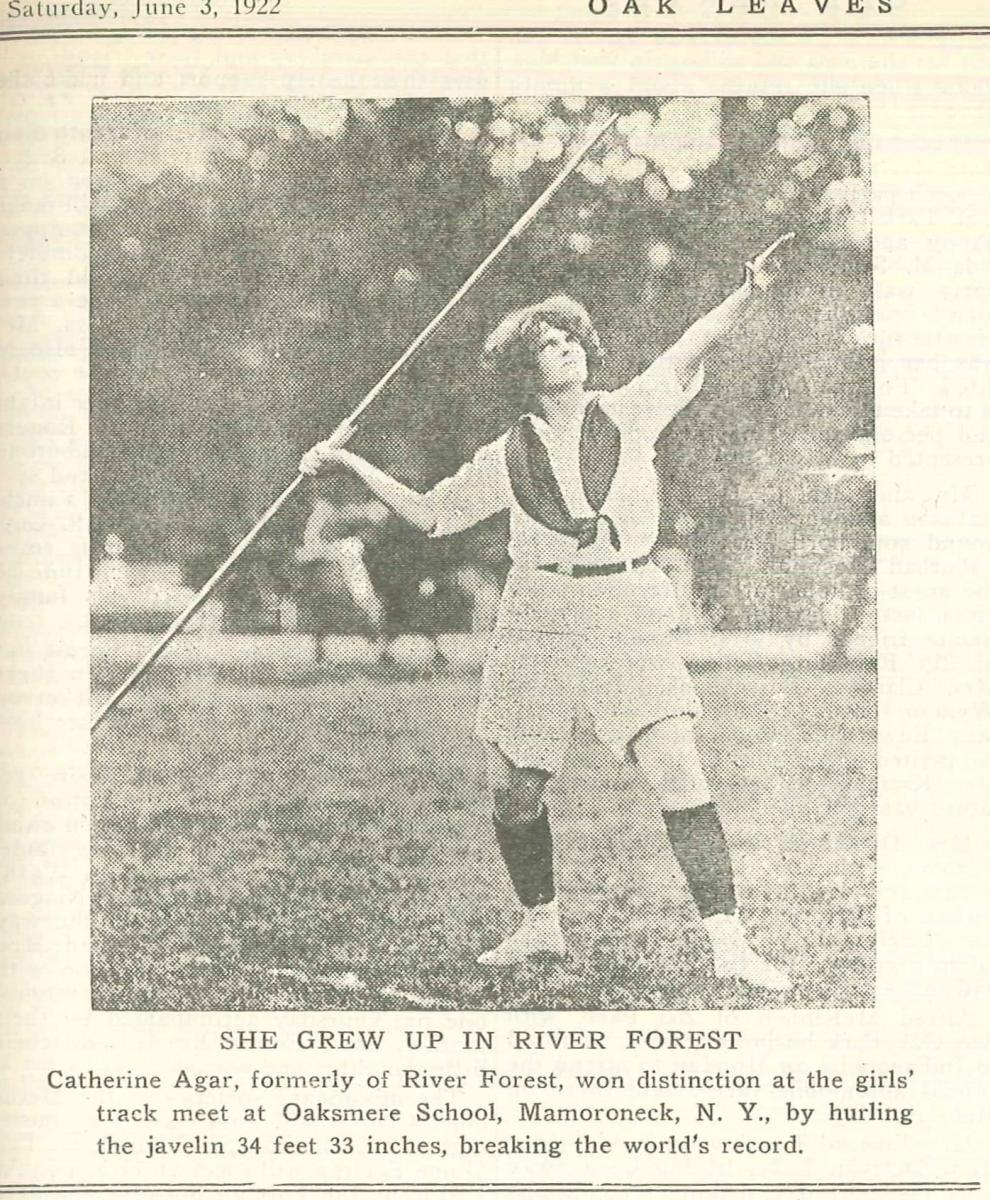 Below are the top three entries from the May 14 "Caption This" photo contest.
1. "How Mrs. Burroughs kept busy while Edgar wrote his books!"- Clyde W.
2. "Mr. President, your vaccination is ready."- Jay C.
3. "Captain of the Oak Park Pigeon Removal Squad"- Bill and Joann H.
All other entries:
"Fighting Covid-19!"- Lornetta H.
"Oak Park Coffee Shop proprietor Java Lynn aims for bigger business in a competitive field."- milohio
"Empowered--Diana the Huntress takes aim on the future."- Edgar H.
"Here's at you virus!"- Joyce P.
"Sid Finch's Grandma"- Dan K.
"To the Moon, Alice"- Robert G.
"Darned kite-eating tree!"- Randall T.
"Aim for Trump's EGO but at least stab him in the..."- Jerry E.
"Despite her best efforts, Beulah's continued attempts to make black socks with white shoes catch on simply failed to gain traction."- Jay C.
"Not another highrise!"- Jay C.
"No highrises around Unity Temple!"- Jay C.
"Are you sure this is the best way to get into the Space Force?"- Jay C.
"After reading Tarzan of the Apes ten year's prior, she always aspired to play the role of Jane!"- Deborah B.
"Godzilla! I am taking you down."- Ina S.
"Javelin Jane"- Jan D.
'"Don't stand so close to me,' warns Jabby Jane a local Dear Old Oak Parker, as she demonstrates her social distancing technique."- Beth N.
"Ms. Ruth's nephew suggested pointing to where the lance should fly." - Marlene S.
"Birdy birdy in the sky, why did you…"- Mike S.
 "Take this, Jim Thorpe!" –Bill and Joann H.
 "Much more fun than half court basketball!"- Bill and Joann H.
 "Wait till you see the size of the bow we use for our Archery contests!"- Bill and Joann H.
"Can't leave my house, so I am sending my first vote for Mayor of Oak Park to my polling place."- Bill and Joann H.
"This should go far enough to get rid of one of those pesky River Forest residents."- Bill and Joann H.
"I sure hope this practice pays off, and I make the Jarts team!"- Kenn S.
And now for the real story behind this photo:
Pictured here is Kathryn Agar (1902-1987), at one time the world record holder in the women's javelin throw. This curious event--called the combined right and left arm javelin throw (or the two-handed javelin throw), saw athletes throw several attempts with each arm, then add together the best scores from each arm. Her winning effort of 134 feet, 3 ½ inches, was over 12 feet further than the previous record held by a French girl. Kathryn traveled to Paris in August 1922 as one of 13 members of the U.S. team competing in the first international Women's Olympic (or World) Games, which attracted 77 participants from 5 countries. This gathering was not an official part of the sanctioned IOC games.
Kathryn Agar was the daughter of James S. and Minnie Adele Agar; her father was president of Agar Meatpacking Company, which was founded by her grandfather in 1866. The Agar's lived on the 500 block of Thatcher in River Forest for only a few years from about 1904 or 1905 to 1909 when they returned to Chicago. She was educated at private schools, and her family had mixed feelings about her athletic prowess. Her sister, Ruth, married a River Forest neighbor, Wilson A. Jaicks. Following Ruth's early and sudden death, Wilson and Kathryn Agar married. Her nephew, John G. Agar (her brother's son), was the first husband of Shirley Temple in the 1940s.
Kathryn Agar Jaicks lived in Lake Forest, Illinois the rest of her life where she was a successful real estate executive. Sadly, she never resumed her competitive athletic career.