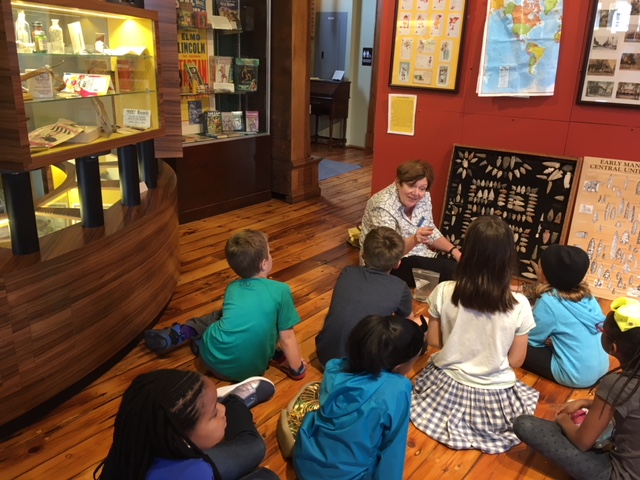 Whether you need book inspiration, a fun activity, or an engaging field trip, Oak Park River Forest Museum can provide an array of resources on local history to use within your classroom or on a future visit to the museum. For more information on how to plan your visit, contact us on our website, by email at oprfhistorymatters@sbcglobal.net, or call 708-848-6755.
Illinois State Board of Education Standards
Worksheets

The following worksheets are a useful aid when visiting the museum or completing research from our website. Utilize these worksheets on your next school trip to the museum.
Book Recommendation List
Oak Park and River Forest have been home to many great cultural figures, especially in literature. This list of books features a series of authors relating to the history, setting, or people of Illinois.
K-5th grade

…If You Grew Up with Abraham Lincoln Ann McGovern
Mr. Lincoln's Whiskers by Karen B. Winnick
I Survived #11: I Survived the Great Chicago Fire 1871 by Lauren Trashis
Children of the Fire by Harriette Gillem Robinet*
Missing from Haymarket Square  by Harriette Gillem Robinet*
What Can a Citizen Do? by Dave Eggers
6-8th grade

Illinois Native Americans: A 9,000 Year Civilization  by in60Learning
Abraham Lincoln – The Writer: A treasury of His Great Speeches and Letters by Harold Holzer
Children of the Fire by Harriette Gillem Robinet*
Missing from Haymarket Square by Harriette Gillem Robinet*
10 True Tales: World War I Heroes by Alan Zullo
A Bus of Our Own by Freddi Williams Evans
Extra Credit by Andrew Clements
New Kid by Jerry Craft
9-12th grade

The Sun Also Rises by Ernest Hemingway*
The Complete Short Stories of Ernest Hemingway*
The Stone Diaries by Carol Shields*
Devil in the White City by Erik Larson
The Chicago Race Riots, July 1919 by Carl Sandburg
Poems by Charles Simic*
*Author is from Oak Park or River Forest