Cecily Strong
Birth/Death Dates:
Resident Dates: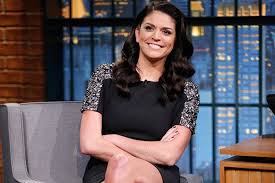 Comedian, actress and voice actress Cecily Legler Strong, known primarily for her sketch comedy as a cast member on 147 episodes of Saturday Night Live (SNL), was born in Springfield, IL on February 8, 1984, but grew up in Oak Park, IL.  The daughter of Penelope and William Strong (former Associated Press bureau chief), Cecily's fascination with SNL began as a child as she would reenact sketches from the show and record old SNL commercials which she watched every day.  She says her inspiration was the late SNL cast member Phil Hartman.
Cecily attended Oak Park River Forest High School for three years before the acting bug became too strong and she transferred to the Chicago Academy of the Arts, graduating in 2002.  She then studied acting at the California Institute of the Arts, graduating with a BFA in 2006.  She returned to Chicago and continued her education at the Second City Conservancy as a member of the National Touring Company and understudy for the Second City Main Stage. She also studied at the iO Chicago Theater, an improv theater and training club.
Strong's long-held dream of joining the cast of Saturday Night Live was realized on September 15, 2012.  In 2014, she was selected as co-anchor for SNL's Weekend Update, the program's most prestigious role.  She is quoted as saying she was "truly close to tears. I was trying to keep it together.  It was overwhelming and I was so honored."  She co-anchored with Seth Meyers and later Colin Jost.  Weekend Update debuted one of Strong's signature characters, The Girl You Wish You Hadn't Started a Conversation With at a Party, hailed by Rolling Stone Magazine as an instant classic.
In addition to her SNL career, Strong has also made the leap to movies.  She has appeared in seven movies including "The Female Brain", the 2016 remake of "Ghostbusters", Melissa McCarthy's "The Boss" and "Staten Island Summer."  She's even branched out to TV animation with a role on "The Simpsons".
In 2014 Strong's comedic skills were on display for perhaps her most prestigious audience as she hosted the White House Correspondents Dinner, where she lampooned the press, politicians, and the President.  In the 99 year history of the dinner, which did not allow women in the room until 1962, Strong was only the fifth woman to emcee the event.
Submitted by Michael Guerin, May 2019
Sources include: Chicago Tribune, NBC News, OPRF Tabula, Wikipedia, Internet Movie Database