Proud Oak Parkers: 1989-90s
HIV/AIDS Crisis Leads to Advocacy
The devastating AIDS epidemic shattered the silence of gay and lesbian life in Oak Park. By 1988, eight people were diagnosed with AIDS in the village, and many more were undiagnosed and infected. Health workers and members of the gay community knew that soon the number of sick would overwhelm existing resources. This urgency incited the formation of the Oak Park AIDS Network and Community Response in 1988. In 1989, Community Response members met with village board candidates to discuss the development of supportive community structures for those affected with HIV and AIDS. These discussions turned to the lack of support for the gay and lesbian citizens of Oak Park, and the fact that Oak Park offered no tangible protection against discrimination for gay people who risked being "outed" if they were to receive aid or participate in HIV/AIDS volunteer programs.
Pressed by Community Response's Angelika Kuehn and gay board members—among them soon-to-be OPLGA founders Nathan L. Linsk, Melvin "Mel" J. Wilson, and Bryan Findlay—all of the village board candidates slated by the Village Manager Association (VMA) pledged to support the revision of Oak Park's Human Rights Ordinance to include gays and lesbians as a protected class. OPLGA, newly founded that March, continued the charge started by Community Response and built community support for an amendment to Oak Park's Human Rights ordinance. Heated public debate spilled over onto the pages of the Oak Leaves, Wednesday Journal, and Chicago Tribune.

On June 5, 1989, after three hours of emotionally charged testimony, the Oak Park village board unanimously voted to amend the village's Human Rights Ordinance to include sexual orientation among those protected from discrimination in areas of housing, village employment, and public accommodation.
The following week Oak Park and River Forest High School (OPRFHS) introduced a motion to amend the school's Human Dignity Policy to include gay and lesbian students and faculty. Six months of public debate followed. OPLGA championed gay and lesbian students' right to dignity and freedom from discrimination while anti-gay opponents accused OPLGA of recruiting innocent youth into the "morally bankrupt gay lifestyle." Finally, on December 13th, 1989, the OPRFHS board unanimously voted to include gays and lesbians in the Human Dignity Policy, making OPRFHS the first public school in Illinois to protect gay and lesbian students and faculty from discrimination based on sexual orientation.
In 1994, OPLGA sought to pass a Domestic Partnership ordinance to grant gay and lesbian residents the same benefits as heterosexual married couples, such as hospital visitation and equity insurance benefits. That April, Oak Park's village government enacted a Domestic Partnership Ordinance providing equitable benefits for employees in same-sex partnerships. Oak Park's gay community celebrated with a victory bash at Alan Amato's Pride Agenda Bookstore on Westgate, a pioneer institution for the gay community.

In 1995, recognizing that its membership spanned across many other local LGBT groups, the organization changed its name to the Oak Park Area Lesbian and Gay Association, or OPALGA. The name change also signaled that OPALGA's mission of advocating for LGBT rights extended beyond the borders of Oak Park. That same year OPALGA proposed an ordinance to enact a Domestic Partnership Registry, which would create quasi-marriage certificates to allow same-sex couples to publicly declare their union. However, the Oak Park village board voted down the proposal.
In 1997, OPALGA brought a revised Domestic Partnership Registry proposal to a newly-elected village board, which included the first lesbian elected official in Illinois, Joanne Trapani. The village board voted 5-2 in favor of the registry, establishing the first Domestic Partnership Registry in Illinois. In October, 1997, Ron Rauch and Phil Bellerive became the first gay couple to sign Oak Park's domestic partnership registry.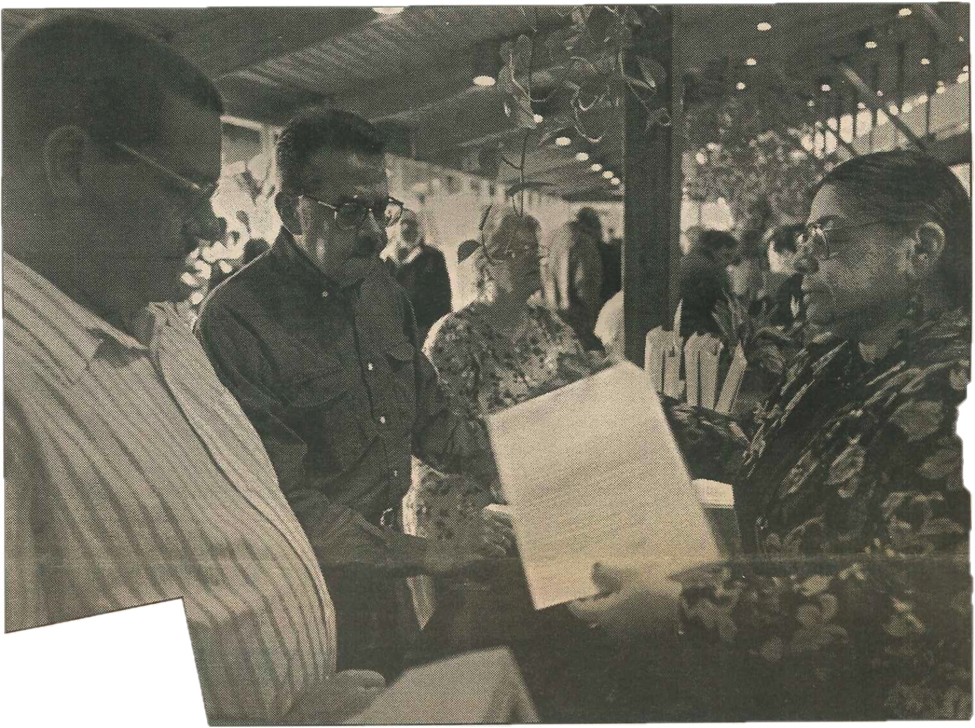 Although the registry did not give homosexual couples any legal benefits or rights, opponents of the registry—led by the group Concerned Citizens—organized a referendum aimed at the repeal of the ordinance. Anti-registry groups argued that recognition of gay couples would send confusing messages to children about lifestyles and contributed to the breakdown of society. In response, OPALGA built a broad coalition of Oak Parkers to drum up support for the registry. In 1998, Oak Parkers voted to uphold the registry, marking the first time that a same-sex partnership registry had ever been supported in a general election.