OPALGA and the New Millennium
At the start of the new millennium, OPALGA led the charge to remove the Boy Scouts of America (BSA), with its then anti-gay policies, from Oak Park public schools. In June 2000, the U.S. Supreme Court ruled that the constitutional right to freedom of association allowed the BSA to exclude a homosexual person from membership in spite of a state law requiring equal treatment of homosexuals in public accommodations. Local PTO members, in turn, partnered with OPALGA to successfully force the expulsion of the BSA from District 97 schools.  

In 2001, Joanne Trapani was elected as the village's first openly gay village president, Ray Johnson—a former co-chair of OPALGA—was elected to the village board, and Bob Walsh became the first openly gay member of the elementary school board. In 2004, OPALGA led discussion groups aimed at amending Illinois law to allow same-sex marriage. These early discussions would not bear fruit until 11 years later. 2004 also saw OPALGA's establishment of a storefront community center hosting youth and young adult programs, a women's group, and a Latino support group (Amigos Latinos Aproyando Siempre).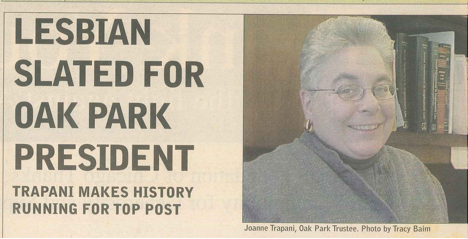 In 2005, Illinois became the fifteenth state to pass a "Gay Rights Bill" barring discrimination based on sexual orientation in areas of employment, public accommodations, and credit. An original signed copy of the bill was presented to OPALGA by Senator Don Harmon to be held in public trust for all citizens of Illinois.  The framed bill is on display in this exhibit.  In 2006, OPALGA served as a Gay Games VII sponsor and hosted event sites in Oak Park. In 2009, OPALGA worked to educate local school administrators to establish a Human Dignity Policy for LGBTQ school employees.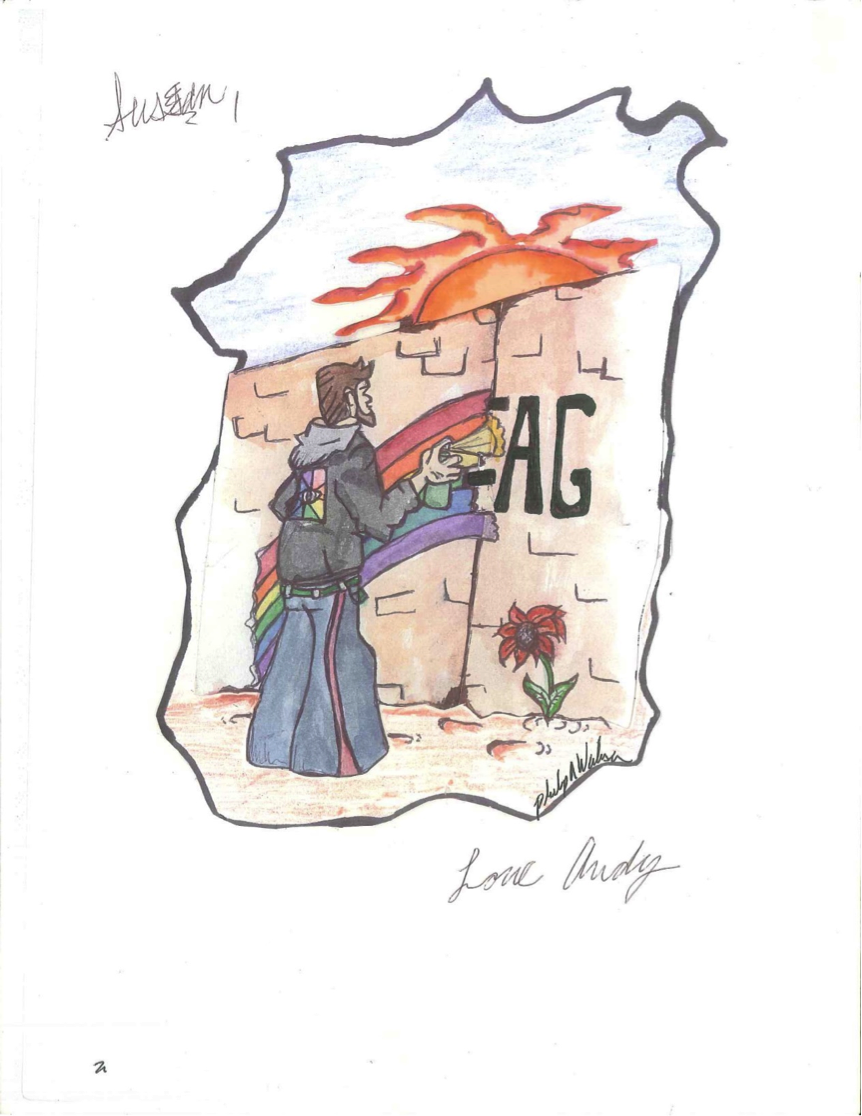 2010 marked a turning point for OPALGA. Funding shortfalls forced OPALGA to downsize. Youth programs ended, staff was laid off, and programs were transferred to the Primary Care Center as the OPALGA Center on Garfield closed. The organization refocused and developed new funding strategies, began new fundraising, and established new goals and objectives as a fund-raising organization supporting other LGBTQ organizations.
These internal crises did not stop OPALGA from fulfilling its mission as advocate for LGBTQ rights. The organization continued to lobby for legal rights, such as the Illinois Civil Unions Act in 2012 and the amendment of Illinois marriage laws. In 2013, OPALGA began its scholarship program to support LGBT+ youth. The organization rallied locally and in Springfield for the passage of the Civil Unions and Marriage Equality in Illinois bill, which was legalized in November 2013 and went into effect in 2014.
In June, 2016, a gunman citing his allegiance to ISIS opened fire at the Pulse gay nightclub in Orlando, Florida. In the wake of the tragedy, OPALGA offered condolences and strength:
 "Our sorrow is deep, the loss of so many lives profound. But we have fought hard to live and love as we are, and no one act by any individual will diminish our pride in our past or dim our future. Love will carry the day" (Pride 2016).
Motivated by the election of President Donald Trump, OPALGA created a new advocacy committee in June 2017 to address the need for local action even when Oak Park and surrounding communities are not at risk for the removal of LGBTQIA+ rights. "Oak Park and the surrounding areas are safe," explained chairman Bob Personnet, "but beyond that what do we do? If you get complacent, it will cost you." 
Click here to view 2019 and Beyond