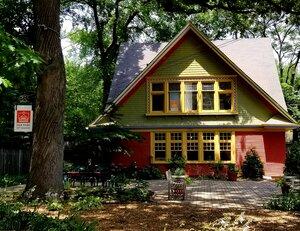 Date
March 31, 2021 - 7:30:pm — 8:30:pm
Description
A Century of Culture: The Creation and Early Years of the Oak Park Art League
This year the Oak Park Art League (OPAL) is celebrating its 100th anniversary and Oak Park River Forest Museum staff is partnering with OPAL to tell the story of the Art League at the corner of Chicago and Oak Park avenues and the broader story of our region's artistic roots.
On March 31st, 7:30-8:30pm, via a Zoom presentation, Oak Park River Forest Museum Operations Manager Rachel Berlinski and Executive Director Frank Lipo will put the spotlight on the origins and the first 25 years of what was founded as the Austin Oak Park and River Forest Art League in April 1921 in the Austin home of noted landscape painter Carl Krafft; Krafft would become the group's first president. It was said that the three communities were "centers of culture" for Chicago's western suburbs and if not true "artist colonies," surely the large number of accomplished artists and generous patrons should from a new group?
In addition to its art exhibitions, the OPAL has conducted a wide range of activities including its popular art classes that have introduced many, old and young, to their craft. The group's work has extended far outside its core members, at times offering free classes to needy students, circulating art exhibits in local schools, creating a scholarship for students, and developing partnerships with local social service and non-profit organizations.
While the OPAL has occupied the former coach house at 720 Chicago Avenue since 1937, its earlier homes included the Frank Lloyd Wright Home and Studio and the Nineteenth Century Club, so the art group's story has multiple chapters. This talk will lay the groundwork for the centennial celebration, which will continue all throughout 2021.
Join us for "A Century of Culture: The Creation & Early Years of the Oak Park Art League," Wednesday, March 31st, 7:30-8:30pm. Cost is $8 for members and $10 for non-members. Proceeds from this event will support the operations of both the Oak Park Art League and Oak Park River Forest Museum.
Click here to purchase tickets on our website. If you are a member of the Oak Park Art League and wish to receive your membership discount for this program, please log into the Art League's website to purchase tickets.