Current Exhibits
Ever Changing, Yet the Same: Oak Park and River Forest High School at 150
Open House: The Legacy of Fair Housing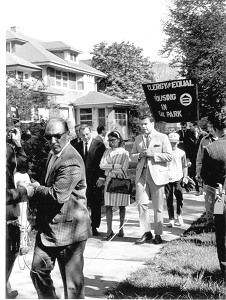 Now Extended
Oak Park is seen as a diverse community today, but it wasn't always that way. This original exhibit tells the story of how the community grappled with race before the 1960s and how the 1968 Fair Housing Ordinance sparked changes which still shape our villages today. 
Click here for more information about this exhibit.
Tarzan, Mars, and the Literary Worlds of Oak Park and River Forest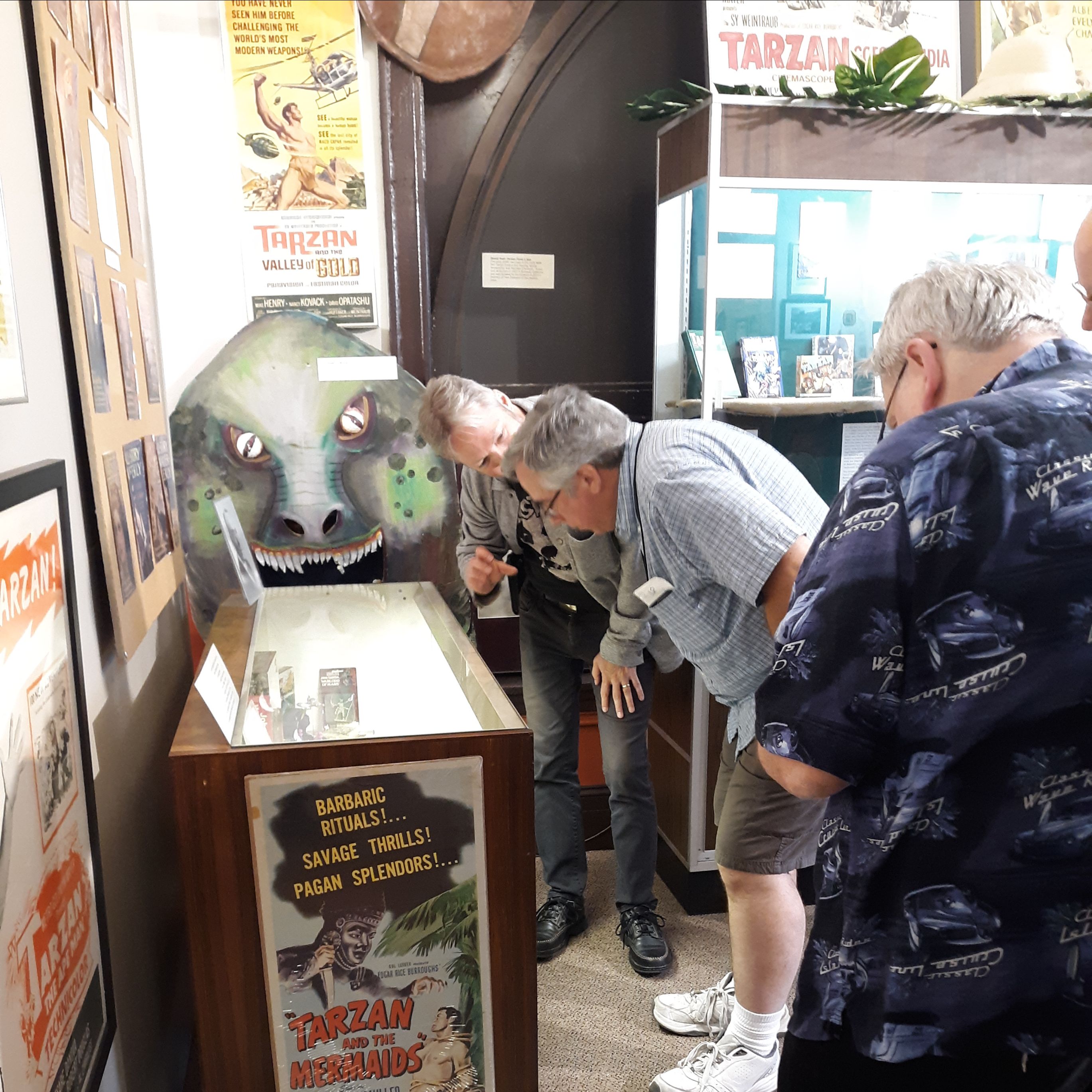 Open now 
Explore Edgar Rice Burroughs' career as a writer and the long legacy of his fictional characters such as Tarzan and John Carter. Learn about other authors who found inspiration in the OPRF community and created fictional worlds of their own.
Past Exhibits
First Girls: Trail Blazing Girl Scouts in 1920s Oak Park and River Forest
March 2020 - September 2023

One hundred years ago Girl Scout Troop 1 was organized at First Baptist Church in Oak Park. The Museum's newest short-term exhibit examines the first decade of Girl Scouting in our villages.
The first American Girl Scout troop was organized in Savannah, Georgia by Juliette Gordon Low only eight years earlier, but the movement spread rapidly across the country. Oak Park's first Girl Scout leader was Helen Freer Morris, who has the distinction of being one of the handful of women whose name appears on the "Peace Triumphant" WWI Memorial in Scoville Park. She was a nurse who supervised a tuberculosis hospital in France during World War I.
The exhibit features early Girl Scout activities, including the establishment of Troop 19 in River Forest in 1925; badges; camping; Oak Park's earliest recipients of the Golden Eaglet, Girl Scouting's highest award at that time; and a look at some national controversies over what were appropriate roles for girls and how they impacted an organization for girls that was run by women.
OPRF A to Z
Ongoing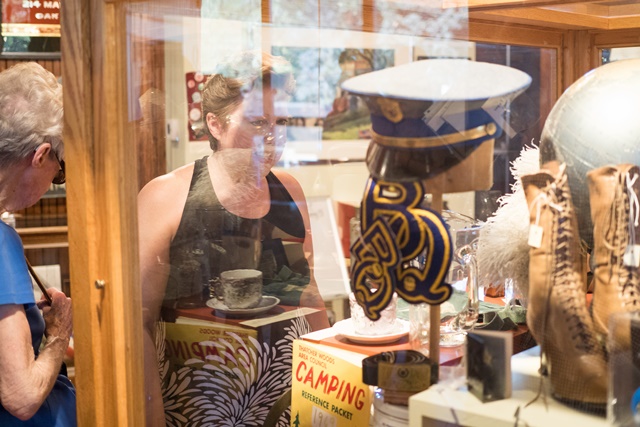 Explore hundreds of artifacts throughout the museum that illustrate the history and legacy of Oak Park and River Forest. While investigating displays around every corner and searching through items inside OPRF High School's old library card catalog, you can participate in a scavenger hunt to find items that begin with each letter of the alphabet. You never know what you may discover!
From Tintypes to JPGs: A Brief History of Photographic Prints
July 2020 - July 2022, Oak Park River Forest Museum
Every picture tells a story. And a new display at OPRF Museum tells the story of the people and places in Oak Park and River Forest history, but in a surprising way. 

Today, technology has made everyone an amateur photographer, but it was not always so easy to take and share photographs. You may have seen different kinds of photographs in your old family albums. In our new display, "From Tintypes to JPGs: A Brief History of Photographic Prints," learn about those different types of prints and ways people have taken photographs over the last two centuries. Find out how photographs and cameras have changed with examples from our Museum collection!
Proud Oak Parkers: OPALGA+ at 30
November 6, 2019- February 29, 2020, Oak Park River Forest Museum

This exhibit marked the 30th anniversary of the organization that came together in 1989 to support an open, active community of gay and lesbian residents and end discrimination based on sexual orientation in our  villages.
In its first year of existence, the Oak Park Area Lesbian and Gay Association spurred the village board to amend the Oak Park Human Rights Ordinance to include a ban on discrimination in housing, employment and public accommodation based on sexual orientation. And in the 1990s, OPALGA successfully pushed for Oak Park village officials to establish a Domestic Partnership Ordinance and later a Domestic Partnership Registry.
OPRF Museum was gifted with the organizational records of OPALGA in 2014, which includes memorabilia, photos and other archival material that will be used to help tell this story.  The exhibit examined OPALGA+'s impact in the community and offered context on the national struggle for rights for all regardless of a person's sexual orientation.
View more from this exhibit on the history of OPALGA+
Economy Shop at 100: Donations Through the Decades, Shopping Through The Century
March 1-June 8, 2019, Oak Park River Forest Museum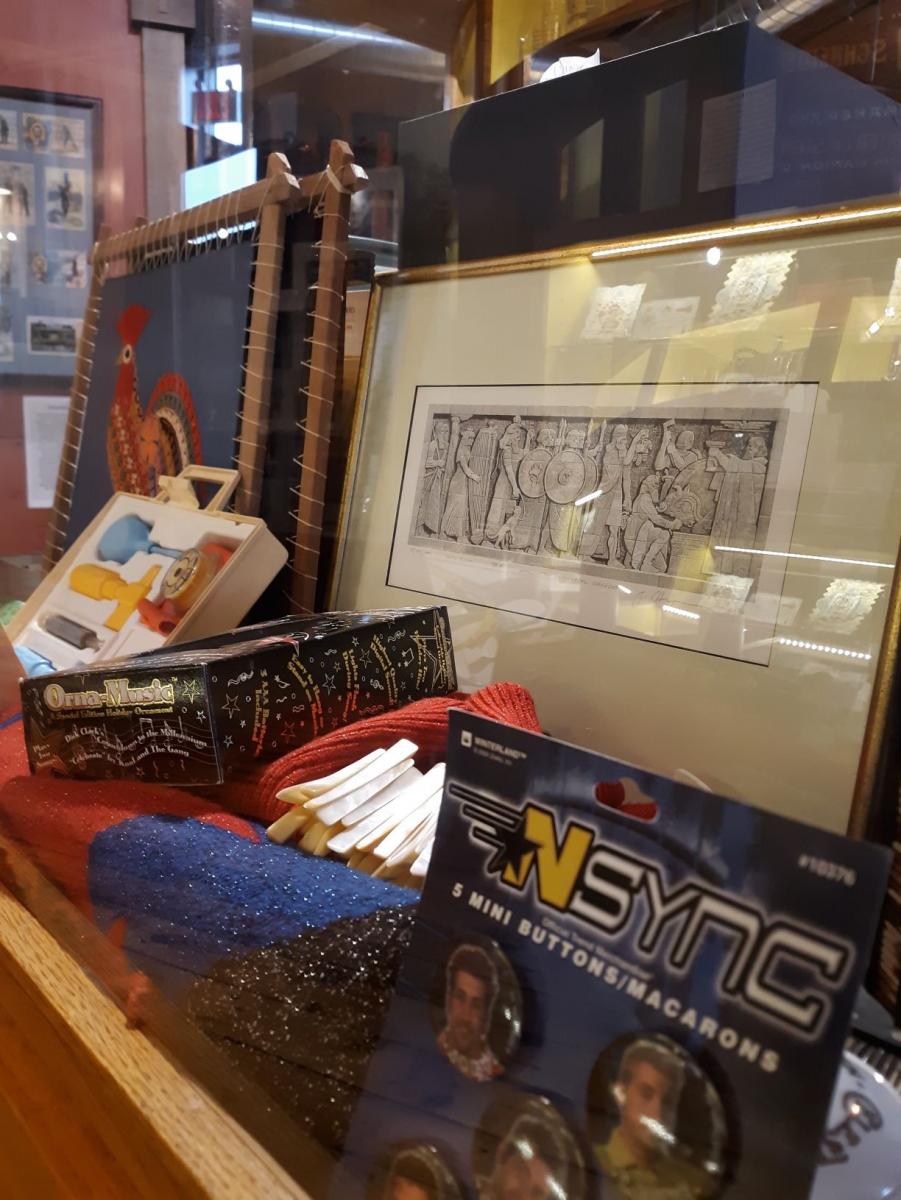 In 1919, a group of Oak Park women decided to open the Economy Shop to raise funds for five local charitable organizations. Today Economy Shop is a unique and indelible part of the community and continues to be an important resource for local charities.
OPRF Museum and Economy Shop celebrated the shop's 100th Anniversary with an exhibit showcasing a fascinating collection of items that had been donated to Economy Shop within the previous year. The items on display represented each of the decades the shop has been open and exemplifed the variety of unique treasures that arrive at its doorstep. When the exhibit closed, the items in the exhibit were sold at a silent auction held at the Shop on Saturday, June 8, 2019.
View more from this exhibit on the history of the Economy Shop.
View a special online exhibit, Economy Shop: 101 Years of Volunteerism
World War I: From the Home Front to the Battle Front
September 2017-January 2019, Oak Park River Forest Museum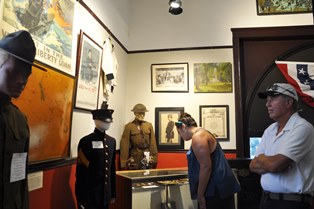 Find out the story of an African American man from Oak Park who served in a machine gun unit in France. See a scrapbook from a young man who died in the war and whose name is on the World War I Memorial in Scoville Park and on a boulder at Stevenson Playground. Learn how Oak Park and River Forest waged the battle of the home front and see actual uniforms worn by men from the villages. These and many more items and stories on display tell the story of Oak Park's and River Forest's connection to The Great War.
Ghosts of Christmas Past
November 2018- January 2019, Oak Park River Forest Museum
See this display of vintage Christmas lights, trees, and decorations from the collection of Jerry Ehernberger, founder of The Golden Glow of Christmas Past collectors group. 
Click here to read about this exhibit in the Wednesday Journal
Tarzan, Mars, and the Fertile Mind of Edgar Rice Burroughs
Opened January 2010, Pleasant Home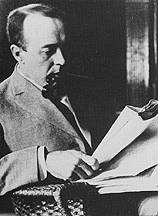 The Historical Society presented a fascinating exhibit on the life and work of Edgar Rice Burroughs. Much of the exhibit focused on Burrough's life while living with his family in Oak Park. The exhibit featured dozens of photographic images of the author, his family, his many residences, and of course, Tarzan, Jane, Cheetah, and Boy. Also featured were Tarzan toys, puzzles, action figures, lobby cards, and movie stills.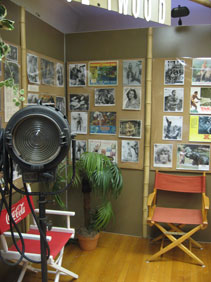 The Burroughs family lived in several Oak Park residences: 821 S. Scoville (rented from 1910-11), 414 Augusta (owned from 1914-17), 700 N. Linden (owned from 1917-18), and 325 N. Oak Park Ave. (rented from 1918-19).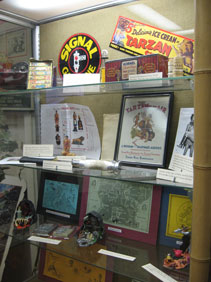 The Historical Society placed a plaque at his residence located at 700 N. Linden Ave. in 1999--the last home the Burroughs family owned while living in Oak Park. 
A Century of Girls Leading the Way: Celebrating 100 Years of Girl Scouting (1912-2012)
March 20, 2012- March 3, 2013, Pleasant Home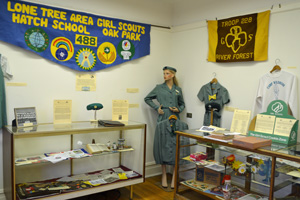 2012 marked the 100th anniversary of the founding of the Girl Scouts of the USA by Juliette Gordon Low in Savannah, Georgia.
To celebrate this milestone, the Historical Society presented a special exhibit on the history of Girl Scouting, with special focus on Oak Park, River Forest, and Forest Park.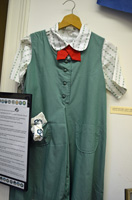 From the establishment of the first area troop in the fall of 1920 at First Baptist Church, until today--with 1,500 girls in 100 troops--Girl Scouting has had an important impact on thousands of girls in our 3 communities.
The exhibit was curated by Peggy Tuck Sinko, Vice President of the Historical Society and a Life Member Girl Scout.
"On My Honor:" 100 Years of Boy Scouting in America, 1910--2010
October 1, 2010–January 15, 2011, Pleasant Home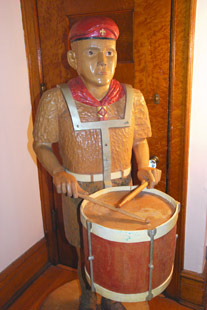 The Boy Scouts of America celebrated its centennial in 2010, and to mark this milestone, the Historical Society partnered with local Scouting members to celebrate the history of Boy Scouting in the River Forest/Oak Park area.
Boy Scouting came to our communities very early: Troop 1 was organized in April 1911, and the Oak Park Area Council was formed that same year with noted Oak Park physician, Dr. Thomas E. Roberts, who helped found West Suburban Hospital, as first council executive.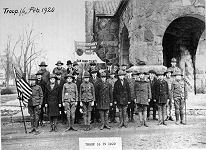 In recognition of the 100th birthday of the Boy Scouts of America, the exhibit provided a unique look back and forward—how Scouting in this area started, its programs today, and its exciting plans for the future.
The display included photos, uniforms, tents, backpacks and other vintage Scout gear, one-of-kind wood carvings, flags and memorabilia that provide a fascinating view into Oak Park and River Forest's history and the communities' relationship with a Scouting program that has guided tens of thousands of boys (and girls, too) in the near west suburbs in the values of leadership, teamwork, fair play, and service to the community, the nation, and the world.
Recycled Bottles: History from Trash: The Ed Lace Collection
September 1, 2010–January 15, 2011, Pleasant Home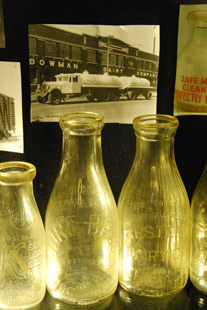 Ed Lace, long-time naturalist and archaeologist who worked for many years with the Cook County Forest Preserve District, was a collector from an early age. This expert on the flora, fauna, geology, and Native Americans of Chicagoland spent decades exploring Chicago-area forest preserves and began collecting old bottles he found on his treks. These bottles, which were in storage at Trailside Museum for many years, have been donated to the Historical Society.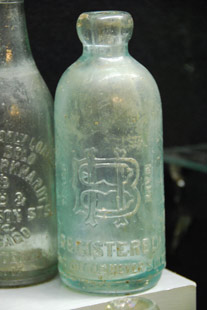 This exhibit displayed, for the first time, over 100 bottles, dating from pre-1880 blob-top bottles to 1940s and 1950s pop bottles. It included beer bottles, soda bottles, embossed milk & dairy bottles, as well as miscellaneous items like patent medicine and stove polish bottles. Most were from Chicago area bottlers and companies, including several from firms in Oak Park, River Forest, and Cicero.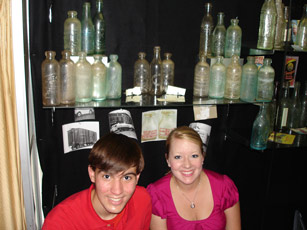 A small number of bottles from the Historical Society's collection were also on display, including items from the Westphal Bottling Company of River Forest, and local dairies and drug stores.
Fighting for Women's Rights: The History of West Suburban NOW
March 21, 2010- June 30, 2010, Pleasant Home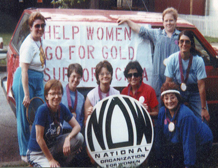 A look back on 30+ years of activism by the West Suburban Chapter of the National Organization of Women (NOW).
The West Suburban NOW was founded in 1978 to promote a broad agenda of women's rights issues. Chapter members were active in efforts to pass the Equal Rights Amendment, to support the Nestle Boycott of the 1980s, and to obtain reproductive rights, appreciation of women's history, and justice and equality issues of women.
The display also included other items from the Historical Society's collection about other women's organizations in River Forest and Oak Park. This exhibit was in memory of Edie (Reposh) Naselli-Carpenter, past president of West Suburban NOW.
The Roots of Oak Park
Opened January 2001, Pleasant Home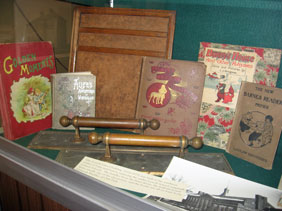 This exhibit explored themes in Oak Park history from 1901-02 when the village incorporated. The exhibit was organized chronologically and topically. Some themes explored included Geological and Native American history; Early European settlers; Education; Religion and Temperance; Ethnicity; Home and Family; Culture and Recreation.