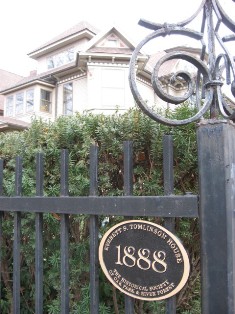 The plaque program was created to highlight the rich history and architectural heritage of our two villages as well as to promote community pride. The program is administered by The Historical Society of Oak Park and River Forest through the Oak Park River Forest Museum.
Created by Kelli Kline, former Historical Society board president, the plaque program informs the community and visitors about the historic specifics of each designated building. The program serves as a fundraiser for the OPRF Museum and a portion of each plaque is tax deductible.
The plaque program is for homes and buildings in Oak Park and River Forest that are at least 50 years old, in good repair, and that retain most of their historic character as determined by a visual inspection conducted by the Museum's plaque committee. 
Plaques are cast bronze, 11-inches x 8-inches, and oval-shaped.  Each plaque is placed where it can be viewed from the sidewalk and includes the name of the original resident or owner, the date the building was built or a "circa" date, the Historical Society nameplate and the architect and/or builder's name, if known. 
To Participate in the Plaque Program:  
Homeowners interested in participating in this program are responsible for researching the history of their building.  If, for any reason, you are unable to conduct the research yourself, the OPRF Museum can do it for you at the rate of $25 per hour.
Please contact us to learn more about plaque pricing and details or to schedule your research.   
Please note that this program is not affiliated with the Village of Oak Park Landmark Program or the Village of River Forest Landmark Program.