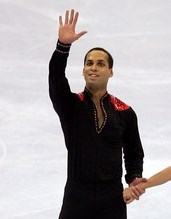 Olympian Aaron Parchem, born in 1977 in Columbus, Ohio, is the adopted son of Al and Georga Parchem of Oak Park. He began skating at the Ridgeland Commons Ice Rink (now the Paul Hruby Ice Arena) and his participation in the annual ice shows solidified his interest and commitment to skating. He said he "was hooked once I did my first ice show." At 14 he entered his first competition as a solo figure skater and, at age 20, switched to pairs skating at the suggestion of a coach while attending Butler University in Indianapolis. While he initially sought to phase out his skating career at Butler, he said "I caught the bug again and decided I wanted to really try to be my best at this so I made a major move to come to Detroit" and attend the University of Detroit Mercy to finish his undergraduate degree in economics. He joined the Detroit Skating Club, well known for the figure skaters it has produced.
Parchem paired up with Stephanie Kalesavich, and they qualified for Junior Nationals within their first eight months of skating together. By the next year, 2000, they won the event. He teamed up with a new partner, Marcy Hinzman in 2004. Parchem and Hinzman received third place in the 2005 U.S. Figure Skating Championships, which would have qualified them as alternates for the Olympics in an Olympic year. Although it was a significant achievement, Parchem and Hinzman wanted a guaranteed spot for the 2006 winter Olympic Games in Torino, Italy. With another year of experience and training together, they worked to reach that goal.
During that 2005 skating season, Hinzman tore her ACL in her non-landing knee, and after having surgery she had a six-month recovery period before they could train again. The training paid off. They participated in the 2006 U.S. Figure Skating Championships in St. Louis and won the silver medal, qualifying them for a spot on the U.S. Olympic Figure Skating Team.
Parchem and Hinzman placed 13th in the Torino Olympics. According to Parchem, "Coming into the Olympics, we knew we didn't have a shot at a medal. The achievement for us was qualifying for the Olympics. The whole Olympic experience to Marcy, myself and our families was to just enjoy he celebration and to be part of something that was vastly bigger than ourselves." Parchem himself made history for being the first African American male to represent the U.S. Olympic figure skating team.
Parchem is married to former Polish skater and choreographer Zizanna Szwed. They have a daughter, Sofia, and while Szwed coaches skaters, Parchem is a senior financial consultant at Comerica Securities, Inc.
Michael Guerin, February, 2022
Sources include: U.S. Olympic Fan Club of U.S. Olympic Committee, 2006; Wikipedia; ConsideringAdoption.com; Historical Society of Oak Park and River Forest