Bernard Fantus
Birth/Death Dates:
Resident Dates: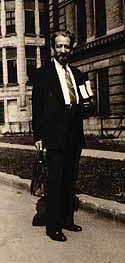 Dr. Bernard Fantus (September 1, 1874 -April 14, 1940) was a Hungarian American physician. Fantus was born in Budapest, Hungary.  He gained his MD degree in 1899 from the University of Illinois, and in 1934, he became the director of pharmacology therapeutics at Cook County Hospital. 
His most lasting achievement was the establishment of the first blood bank at Cook County Hospital in 1937.  Fantus lived in Oak Park until his death in 1940. 
Fantus invented the name "blood bank" and put this name into circulation, partly through a landmark article in the Journal of the American Medical Association in July 1937. It was rapidly adopted by other hospitals.  Prior to that time, the use of transfusions for emergency surgeries was limited because blood could not be stored, and transfusions required the immediate availability of the donor.
Dr. Fantus' blood bank had a profound effect on major and trauma surgeries. Much of the major surgery performed today would be impossible if blood donors were required to wait at the operating room door.
From its inception, the Cook County Hospital blood bank depended on volunteer donors, a concept still used today by most blood bank recruitment programs.
In May 1933, Fantus joined with others to establish the Humanist movement with the publication of the first Humanist Manifesto.