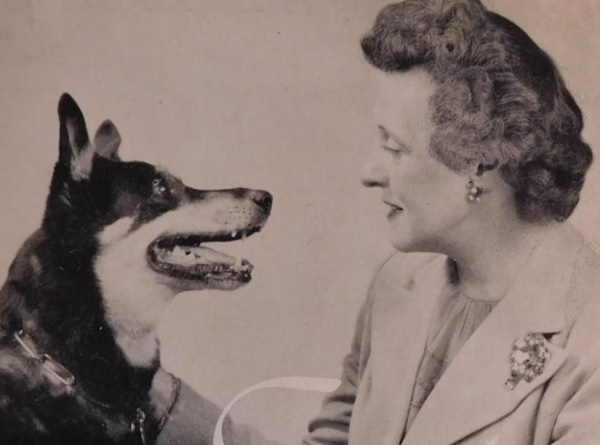 Bernice Clifton was an early participant and representative for the Seeing Eye Dog project in the United States. She was a public speaker for both Seeing Eye, Inc. and disability rights from 1939 through the 1960s.
"Keep up your typing and study Braille," [the doctor] said quietly as he put his arm around my shoulder and patted me gently. Then there was complete silence. I was stunned. This meant I was to be totally and permanently blind. This was the end. "Be sure to study Braille," Dr. Clifford repeated, knowing I was an avid reader. "Do this immediately."
"If I can't see, I don't care about studying anything, I snapped, slumping into a chair."
 Bernice Clifton---None So Blind" 1962
Clifton was born in St. Louis, MO and came to Oak Park with her mother after her father died. She attended Emerson School and Oak Park and River Forest High School. After a year in stenographic school, she began working in an Oak Park store as a stenographer.  She took night classes in art at Northwestern University and began to make suggestions for decorating store windows. Eventually she was promoted to head of the Interior Design Department at the Grables store in Oak Park. 
One day, during the holiday shopping season of 1936, Clifton completed her main job of arranging window displays at Grables and was helping a customer select a gift for a friend. As she descended the steps to the basement stockroom, she fell and sharply struck her head.  After the fall she noticed her vision was cloudy, which she attributed to overwork. The cloudiness persisted and in February she consulted a specialist who found she had detached a retina.  After three unsuccessful operations her specialist proposed one final operation to restore her sight.  The operation left her blind.
After a brief period of depression, and with the help and encouragement of her mother, Clifton decided to live as independent and productive a life as possible.  They devised ways for her to do the necessary things she had accomplished when she had vision. They developed procedures  for dressing, cooking, cleaning, and typing from dictation with minimal outside assistance.  Clifton, previously a voracious reader, also learned braille. 
Blindness had confined her to her Oak Park apartment so her many friends in the village rallied to her support. Girls from Oak Park Troop 1 volunteered to guide her on walks and shopping trips. In 1938, she applied to The Seeing Eye®,  America's pioneer guide dog program. When villagers learned this there was a successful effort to raise the $150 required to pay for the guide dog. The Seeing Eye required candidates for dogs to demonstrate they had the means to support themselves and their guide dog, so neighbors flooded Clifton with orders for her homemade jams, jellies, and baked goods. Oak Parkers also raised money for Clifton's transportation to Morristown, NJ for Seeing Eye® training. She was paired with Karla, a German shepherd, and her life was transformed.
Karla made it possible for Clifton to travel independently, which she found incredibly liberating. In 1938, seeing eye dogs were a rarity in the Chicago area, and Karla was the first guide dog in Oak Park. At first, the village police were skeptical about the ability of a dog to guide a person through traffic and kept a close eye on the pair; Clifton later said the police were soon satisfied.  In fact, the village conferred Dog License Number 1 on Karla, and that number was passed on to each of her successive guide dogs. 
Clifton's public speaking career began shortly after she and Karla returned from Morristown when the girls of Scout Troop No.1 asked her to speak about her experiences to a gathering of village girl scouts. She was initially hesitant about speaking in public, but with the encouragement and coaching of a friend who taught at the high school, Clifton gave a talk that was so impressive local women's groups began inviting her to speak. An Oak Leaves article from March 1939 reported she was earning her living speaking to groups in the Chicago area. Clifton had a talent for connecting with audiences on a personal level. News reports described her lectures as lively and informative, and Karla had an impressive onstage presence of her own. At the end of a lecture, she would acknowledge applause by barking at the audience. 
After one of Clifton's early talks at Lindbloom High School in Chicago, a Board of Education official bestowed an honorary Doctorate of Canine Intelligence on Karla. Clifton's early lectures centered on her personal experience in dealing with blindness, and the importance of not allowing tragedy to prevent one from living a full life. She also taught audiences about interacting with blind people and urged listeners to regard people with disabilities with empathy, rather than a smothering pity that kept them from being independent and contributing members of society. Clifton became a representative for The Seeing Eye®, and traveled extensively, speaking on the seeing eye dog program, and disability rights.   
When the U.S. entered World War II Clifton and Karla joined the Oak Park Branch of Red Cross Unit No. 6, and in between speaking tours greeted servicemen as they transitted through Chicago Municipal Airport (now Midway International Airport.) Clifton reminisced that Karla particularly enjoyed boarding hospital planes to cheer up invalid servicemen because she got to greet the men in lower bunks and get occasional treats in return. Clifton served as a speaker for the Red Cross and U.S. Army Medical Corps during the war.
After the war, she resumed her speaking schedule and became an advocate for the Mary Bryant Home for the Blind. During the 1950s she lobbied the Illinois legislature to pass special education legislation. In 1953, she hosted a twice weekly radio show entitled "Sight Unseen" on WSEI 104.3. and was featured on several Chicago-area radio interviews.  
Bernice also accepted occasional window display design commissions, explaining, "An idea can be seen with the mind's eye. I merely tell the idea to an artist and he uses his eyes to put it into being."  She was active in Oak Park, serving on the executive committee of the Oak Park Public Library from 1957 to 1977. In her 1962 biography Clifton paid tribute to Oak Park's importance in her life, writing, "It is important for me to know that Oak Park accepted me not as a blind person but as an individual who might have something to contribute to community life, and that I have been asked to participate in civic affairs."
She is the subject of a biography, Sight Unseen by Philip Simon, 1951, and wrote her own autobiography, None So Blind, in 1962, which includes a loving tribute to her dogs, Karla 1 and Karla 2. None So Blind  was serialized in  Good Housekeeping Magazine, Woman's Mirror (a U.K. publication), and Annabelle (Swiss publication).
She resided at 138 N Humphrey in Oak Park until her death in 1985.
Submitted by Thomas Madden, Pam Lyons, and Michael Guerin, March 2023.
References:
Oak Leaves, January 26, 1939; March 30, 1939; Feb. 27, 1941; Chicago Tribune Archives clippings from Midwestern newspapers; The Oak Park Public Library; None So Blind autobiography; Picture from the cover of Sight Unseen by Philip J. Simon