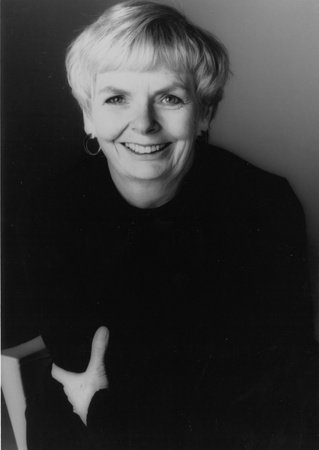 Carol Warner Shields, the youngest of three children, was born in Oak Park in 1935. Her father, Robert, worked for a candy company and mother Inez was a schoolteacher. The family lived in a large house at 700 S. Kenilworth, corner of Kenilworth and Adams. Carol Warner's childhood was typical of most children during this post WWI era in what was then an extremely conservative community.
The Warner family attended the Euclid Ave. Methodist Church. Carol learned to read when she was four and never stopped reading. She attended both Hawthorne (now Percy Julian) and Emerson (now Brooks) elementary schools. She was active in Girl Scouts and Park District theater productions and in eighth grade won honorable mention in a writing contest for her story "40 Chicks and a Peep." Her growing interest in writing was encouraged by teachers and librarians, particularly Adele Maze at the south branch library now named for her.
At Oak Park and River Forest High School Carol was considered the "literary girl". She wrote the class play and the senior class poem and her work was published in Crest, the school's literary magazine. Carol attended Hanover College, a small liberal arts school in Hanover, Indiana. In her junior year she was awarded a scholarship to study abroad at the University of Exeter in England. There she met Donald Shields, a Canadian who was studying civil engineering. The couple married in an evening candle-lit ceremony in her home on Kenilworth on July 20, 1957, just months after her graduation from Hanover and moved immediately to Canada. Carol applied for and maintained a dual American-Canadian citizenship.
Don Shields was a professor of civil engineering and over the years the Shields family – that eventually included five children – lived in a number of Canadian cities. Carol taught at the University of Ottawa, the University of British Columbia and, for fifteen years at the University of Manitoba.
Carol Shields did not pursue a full time writing career until after the birth of her second child. Her first novel was not published until she was 40. But for the next quarter century, until her untimely death from breast cancer in 2003, she was a prolific writer with a wide range of interest. She published ten novels, three collections of short stories, three volumes of poetry as well as biographies, plays and critical studies.
Her awards and honorary degrees are too numerous to list. They include the Pulitzer Prize for Fiction in 1995, National Book Critics Circle Award and Governor General's Award for her best known novel, "The Stone Diaries". Other novels have won major awards from the Canada Council, two National Magazine Awards, an award from the Canadian Authors Association and a CBC short story award.
Excerpts from the Penguin Biography on Carol Shields.