Charles Simic
Birth/Death Dates:
Resident Dates: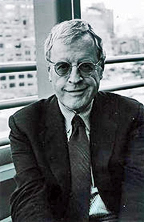 Charles Simic is recognized as one of America's finest poets. A prolific writer, his work ranges from the surreal to grimly realistic. Born May 9, 1938, in Belgrade, Yugoslavia, Simic arrived in America when he was 16 to join his father in New York City after a 10-year separation due to the war in Eastern Europe. They moved to Oak Park shortly afterward.
Simic lived in the community from 1955 to 1962 and attended Oak Park River Forest High School. According to Simic in a 1998 interview with the Cortland Review, his interest in writing took off "When I noticed that one of my high school friends was attracting the best looking girls by writing them sappy love poems." 
After graduation from high school in 1956, he worked a full-time job as an office boy with the Chicago Sun-Times while attending the University of Chicago at night. He later graduated from New York University in 1966.
Simic is the author of more than 60 books, and has won numerous prestigious awards including the Pulitzer Prize in Poetry in 1990 for his book of prose poems "The World Doesn't End" and the coveted MacArthur Fellowship "genius grant," running from 1984-1989. He was a finalist for the 1996 National Book Award in poetry for "Walking the Black Cat." In 2007, Simic won the Wallace Stevens Award from the American Academy of Poets.
In 1995, Simic was elected to the American Academy of Arts and Letters, the highest formal recognition of artistic merit in the United States. He was honored by OPRF High School with a Tradition of Excellence Award in 1991. 
Simic taught creative writing at the University of New Hampshire for more than 30 years. In 2007, he was appointed the 15th Poet Laureate Consultant in Poetry to the Library of Congress.
Simic died on Jan. 9, 2023 in Dover, New Hampshire.
Awards
MacArthur Fellowship (1984-1989)
Pulitzer Prize for Poetry (1990)
Wallace Stevens Award (2007)