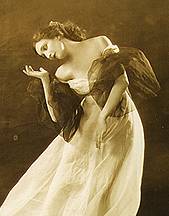 Oak Park native Doris Humphrey (1895-1958) began to study dance as a young girl and opened the Humphrey School of Dance in Oak Park when she was a young woman. 
In 1917 she went to Los Angeles to study with Ruth St. Denis and Ted Shawn; she soon joined the Denishawn Company and became the principal dancer, teacher, and co-choreographer with St. Denis.  
After a decade with Denishawn, touring America and the Orient, Doris and partner Charles Weidman emerged at the forefront of the newly developing Modern Dance movement. She and others were trying to explore the expression of the human body rather than colorful, superficial dances. 
Humphrey's choreography set a standard and was an inspiration to the generations of modern dance choreographers that followed. She was one of the founding members of the dance department at the Julliard School of Music in 1951.