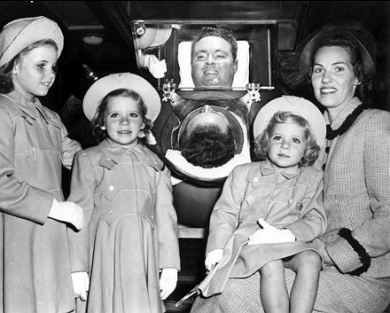 Frederick B. Snite, Jr., a River Forest resident, an alum of Catholic grade and high schools in Elmhurst, and a 1933 graduate of Notre Dame University, appeared to have a very bright future. His father, Frederick Snite, Sr., was the founder and chairman of Local Loan Co., which grew into the largest consumer finance corporation in its field. Fred Jr. was poised to join the company in an executive position in 1935. To celebrate the upcoming event, Snite Sr. took the entire family and Fred's best friend Terrence Dillon on a year-long world cruise.
While in China, Snite Jr. became ill on a flight from Shanghai to Peiping (now known as Beijing) on March 31, 1936. He was taken to a Peiping hospital, where a local physician initially misdiagnosed his ailment as the flu. Further tests revealed that Snite Jr., although 25 years old, was pronounced critically ill with polio, also known as infantile paralysis. Polio destroys nerve cells in the spine. In the 1930s, it was one of the most feared diseases in industrialized countries, paralyzing hundreds of thousands of children each year.
Snite was admitted to the Peiping Union College of the Rockefeller Center, one of the country's most prestigious and advanced hospitals and the only one with an "iron lung" in China. The iron lung, a lung metal tube weighing over 900 pounds, helped a person breathe by expanding the lungs 15 times a minute.
He was near death for nine months and was almost completely paralyzed below the neck. Very gradually, however, he showed improvement. Outside the lung, he could count to three and say a few words. Inside he learned to talk freely. He set a record in that no other polio victim in similar circumstances had ever survived more than a year. His best friend Dillon, who would one day become his brother-in-law, stayed with him throughout his hospitalization. During the day, Dillon would film Peiping's palaces, temples, and everyday life in the city streets. He would then return to the hospital, where he used a special projection system to show the "tour" on the ceiling of Snite's hospital room. Also, using a system of mirrors, Snite could see and talk with the people around him.
After 14 months in the hospital, his doctors agreed he was well enough to endure the 9,300-mile journey home to Chicago. He traveled by train, ship, truck, and moving van, all specially modified and equipped to accommodate the iron lung. He was accompanied by five Chinese nurses, two American nurses from the Billings Hospital at the University of Chicago, two orderlies and the American physician who had cared for him throughout his stay in China. The cost for the move, paid by Snite Sr. was estimated at $50,000, equal to nearly $1 million today. In appreciation for all the care his son had received, Snite Sr. bought two new iron lungs for the hospital in Peiping. On arrival in Chicago Snite was taken to Billings Hospital.
He traveled by van and train four months later to his family's winter home in Miami Beach, a trip he would make many times in the future. His health also improved during this time. He could occasionally remain out of the large iron lung for up to half an hour at a time and could breathe comfortably for two hours a day using a small lung which covered only his chest. In June 1938, he returned to the family's River Forest home on Ashland Ave. for the first time in over two years. In August 1939, Snite married Teresa Larkin, a former classmate of Snite's sister, Mary. The first of their three daughters, Teresa, was born in 1940.
Snite became a national and international celebrity receiving thousands of letters from well-wishers as his story became more widely known. Crowds of people lined the streets in China, San Francisco and Chicago when he returned home. Pictures detailing his return graced the front pages of the Chicago Tribune and Chicago Daily News. Interviews and news articles ran in multiple papers and magazines, from the New York Times to TIME magazine. All of the articles mentioned his high spirits and good humor. He spent hours each day corresponding with both friends and strangers. He even published a bound booklet for friends entitled "Back Talk, Published Spasmodically By Frederick B. Snite, Jr."
Even though he was confined to an iron lung, Snite continued traveling. In addition to yearly trips to Miami Beach to participate in bridge tournaments, he visited Notre Dame University to watch their football games, the Elmhurst Country Club owned by his father, visited friends in surrounding states and even traveled to Lourdes, France to see the Shrine of Miracles.
After 18 and a half years in the iron lung, Snite died on November 12, 1954, in West Palm Beach, FL. He had been participating in the Florida State Bridge Tournament and was taking a nap between sessions. He died in his sleep from heart ailments due to the years of compression on his heart by the iron lung; his arteries and veins had been reduced to the size of a hole in a needle. Funeral services were held at St. Luke's Catholic Church in River Forest; 1,500 mourners attended.
Submitted by Michael Guerin, July 2022
Photo above: Fred Snite in the iron lung, wife Teresa, and daughters Teresa, Katherine and Mary
Sources: Chicago Tribune January 19, 1937, November 13, 1954. Chicago Daily News, June 22, 1937. TIME Magazine, Nov. 18, 1946; Oak Leaves November 18, 1954, January 24, 1963; A Cave of Candles: The Story Behind Notre Dame's Grotto, Dorothy V. Carson November 1, 2006; Snite Museum at Notre Dame.