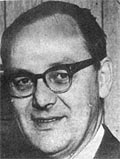 Frederick Doyle was born in Oak Park on April 3, 1920. He attended the local schools and graduated from Oak Park River Forest High School in 1937. In 1943 he joined the army and served until 1948. While in the army, he was involved in preparing target charts for aerial bombing on Japan.
After leaving the army, Doyle attended Syracuse University and received a Bachelor's degree in Civil Engineering; from there, he went to study in the Netherlands at the International Training Center for Aerial Survey on a Fulbright Fellowship. His later graduate study work was in both mathematics and astronomy from Ohio State and Georgetown Universities respectively.
Doyle became involved in space activities in 1954 when he served as leader of the U.S. Air Force solar eclipse expedition to Labrador. His most interesting contributions to the space program came when he was asked to be Chairman of NASA's Apollo Orbital Science Photographic Team in 1969. He planned the camera systems and directed all the orbital science photography for Apollo lunar missions 13 through 17.
In 1971, Doyle received NASA's Medal for Exceptional Scientific Achievement for his development of the Apollo orbital photographic systems. His full-scale maps were able to record the "mountains of the moon." Doyle later became principal investigator on Landsat and Skylab and directed the photography projects on the Mariner and Viking missions to Mars, Venus, and Mercury.
He wrote over 100 papers and scientific reviews that were published in various scientific journals throughout the world and also lectured and taught at various universities and institutions throughout his career. He passed away on April 17, 2013 in McLean, Virginia.