Jane Hamilton
Birth/Death Dates:
Resident Dates: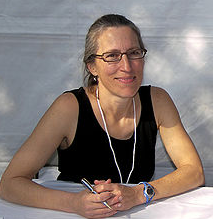 Profiles of novelist Jane Hamilton typically include phrases such as "best-selling", "critically-acclaimed", and "award-winning"—all true descriptions of her successful thirty-plus-years publishing career. She also has been called a "Wisconsin writer"—a logical result of the settings of many of her works and her real life as a wife and mother living and writing on a working apple orchard in rural Wisconsin. But those labels don't do justice to the Oak Park roots that nourished her talent and eventual success.
            Born in 1957, Hamilton attended Hawthorne (now Julian) Junior High School in Oak Park and graduated from Oak Park and River Forest High School in 1975. As a student, she wrote poems and stories and assembled a diverse list of extra-curricular activities. She was named to Cum Laude in her junior year of high school and, in 1995, received the school's Tradition of Excellence Award. Unlike many writers who use fiction to escape harsh reality, this third-generation Oak Parker recalled her childhood in the 1960s as secure, loving, near idyllic.  She has told interviewers she recalled an energetic home atmosphere growing up in Oak Park, one full of lively interaction with friends and family.  
            In that home she came by her literary skills quite naturally. Her maternal grandmother was a poet and unpublished novelist. Her mother Ruth contributed theater reviews to the Chicago Daily News. Her father Allen served as a trustee on the board of the Oak Park Public Library. As she put it, she was raised in "a book culture" where the public library was a favorite haunt and the librarians were her literary mentors.
After high school, Hamilton enrolled at Carleton College in Minnesota.  She received a Bachelor of Arts degree in 1979 and planned to take a job as an editor of children's fiction in New York. Before leaving, however, she visited an apple orchard in Wisconsin owned by the family of a friend.  Three years later she married Robert Willard, a partner in its operation.  The couple has two children.
              Her earliest professional successes came after two stories were published by Harper's Magazine. They were followed in 1988 by a novel, The Book of Ruth, which won the Hemingway/PEN award for best first fiction and earned critical praise from the Times Literary Supplement, Los Angeles Times, and the Washington Post Book World.  The book reached a wider audience seven years later, when it was selected for Oprah Winfrey's Book Club.  A television adaptation came afterwards. Six other published novels have followed. They include A Map of the World (1994), also an Oprah selection and later a film starring Sigourney Weaver; A Short History of a Prince (1999) was set in Oak Ridge, a town bearing a distinct resemblance to Oak Park; Disobedience (2001); When Madeline was Young (2006); Laura Rider's Masterpiece (2009); and The Excellent Lombards (2016).
            Her later works reflect more her life in small town and rural Wisconsin. But in Madeline there appears an affectionate description of her childhood home town with its straight-laced Prohibitionist past and progressive present:
                        "…a village west of Chicago, away from the more conservative
                        North Side, our town the Parnassus of suburbia, leafy, enlightened
                        and dry, dry! …Somehow or other, without a tavern, spirits still
                        ran high in the parishes. There were racial quotas to spur integration
                        in the 1970s and, later, an ordinance to welcome gays and lesbians
                        to the community."
Writing in the aftermath of 9/11 and during the War on Terror, she can't resist poking some fun at Oak Park's idealism:
                        "At some charmed point, it became a nuclear-free zone, a fact that
                        Pakistan, Iran, and North Korea will surely be sensitive to when they
                        are launching their missiles."
Such good-natured kidding aside, Hamilton remains fond of her home town. Like favorite but estranged son Ernest Hemingway some sixty years earlier, she never again lived in Oak Park after high school. But unlike Hemingway, over the years Hamilton has returned often for talks and book signings at the library, high school, churches, and local book stores.
Contributors: Bob Messer, Peggy Tuck Sinko, Sheila Elliott, Michael Guerin