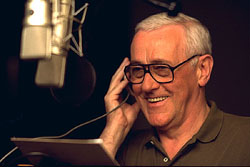 John Mahoney (June 20, 1940- February 4, 2018) was a British American actor, known for playing Martin "Marty" Crane, the retired police officer father of Kelsey Grammer's Dr. Frasier Crane, in the TV series Frasier (NBC, 1993–2004).
Mahoney, the seventh of eight children, grew up in the Withington area of Manchester, England, and discovered acting at the Stretford Youth Theatre.
Mahoney moved to the United States as a young man when his older sister, Vera, a war-bride living in rural Illinois, agreed to sponsor him. He studied at Quincy University in Quincy, Illinois before joining the United States Army to speed up the citizenship process and to become a U.S. citizen; he received citizenship in 1959.  Mahoney lived in Macomb, Illinois and taught English at Western Illinois University in the early 1970s, before settling in Oak Park. He served as editor of a medical journal through much of the decade.
After a stage production in 1977, John Malkovich encouraged Mahoney to join Steppenwolf Theatre. He did so, and went on to win the Clarence Derwent Award as Most Promising Male Newcomer, and, in 1986, Broadway's Tony Award for Best Featured Actor in a Play for his performance in John Guare's The House of Blue Leaves.
He made his film debut in 1980, and has played supporting roles in such films as The Manhattan Project, Suspect, Moonstruck, Eight Men Out, Frantic, Betrayed, Say Anything..., Barton Fink, The Water Engine, In the Line of Fire, Striking Distance, The Hudsucker Proxy, The American President, Primal Fear, She's the One, The Broken Hearts Club, and Reality Bites. 
Mahoney appeared in Frasier from its inception in 1993 until the final episode in 2004, and received numerous Emmy and Golden Globe award nominations for this role. Mahoney also appeared in an episode of Cheers as an inept jingle writer, including a brief conversation with Frasier Crane (Kelsey Grammer), whose father he would later play.
In 2003, he returned to his home in Oak Park, Illinois, to work with the Chicago Steppenwolf Theatre again.
Mahoney joined the cast of the HBO drama, In Treatment, for the show's (2009) second season, portraying a frenetic CEO, overwhelmed by his personal and professional responsibilities, who experiences chronic physical anxiety attacks and arrives for therapy demanding a "quick fix", because his time is of the essence.
Mahoney is the uncle of Illinois State Senator John Sullivan.
Excerpts from Wikipedia