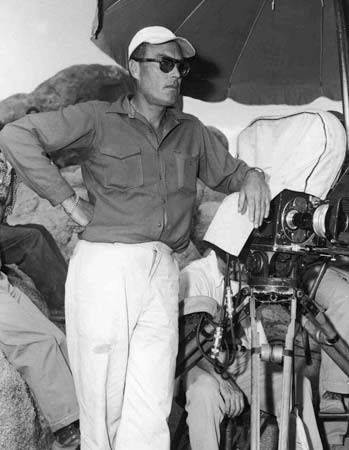 John Eliot Sturges (1910 – 1992) was an American film director. His movies include Bad Day at Black Rock (1955), Gunfight at the O.K. Corral (1957), The Magnificent Seven (1960), The Great Escape (1963) and Ice Station Zebra (1968).
Sturges was born in Oak Park. He started his career in Hollywood as an editor in 1932. During World War II, he directed documentaries and training films for the US Army Air Corps.
Sturges's mainstream directorial career began in 1946 with The Man Who Dared, the first of many B-movies.

He made imaginative use of the widescreen CinemaScope format by placing Spencer Tracy alone against a vast desert panorama in the suspense film Bad Day at Black Rock for which he received a Best Director Oscar nomination in 1955. He was awarded the Golden Boot Award in 1992 for his lifetime contribution to Westerns.
He once met with Akira Kurosawa, who told him that he loved The Magnificent Seven (which was a remake of Kurosawa's Seven Samurai) and presented him with a samurai sword. Sturges considered this the proudest moment of his professional career.
Filmography
Excerpts from Wikipedia