John Van Bergen
Birth/Death Dates:
Resident Dates: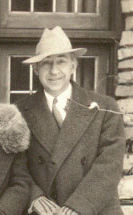 From the earliest days of his childhood, John Van Bergen was destined to become a successful and accomplished architect.  Yet in this town of the most famous American architect, Frank Lloyd Wright, Van Bergen was nearly overlooked. 
Born in Oak Park in 1885, John Van Bergen was the second of four children.  He grew up surrounded by building construction sites--in the 1890's, residential, school and church construction was booming all over the Oak Park area.
Van Bergen's familiarity with building construction and his love of nature were the foundations on which he based his career.  
As a young man, Van Bergen found inspiration in the work of Walter Burley Griffin, and Frank Lloyd Wright.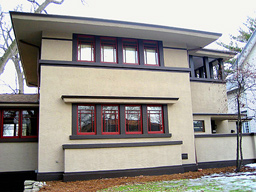 As Van Bergen would later write to historian, H. Allen Brooks; "I went to work for Walter Griffin for six dollars per week.  The training I had with Walter couldn't have been better as I was the only one in his office and I had to do something of everything. Walter took great pains in explaining things to me - pains that no other architect ever took."
After working with Griffin and attending classes at Chicago Technical College, Van Bergen went to work for a while in the busy office of E. E. Roberts, and then to the studio of Frank Lloyd Wright.  In 1911, he started a busy architectural practice of his own and went on to have a very successful and prolific career.
Many of Van Bergen's buildings grace the North Shore and Highland Park, Illinois where he moved after World War I. Later he worked in Lake Zurich and Barrington before retiring to Santa Barbara, California.  Even after retirement, Van Bergen was creating landmark designs in California until his death in 1969.
Homes built by Van Bergen blend very skillfully and successfully with the environment surrounding them.
(Above excerpted from John S. Van Bergen, Architect, a book by Marty Hackl)