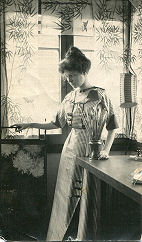 Mary Agnes Yerkes was an American Impressionist painter, photographer and artisan. She was skilled in the mediums of oil, pastel and watercolor. Her professional career was cut short by the Great Depression, but she still continued to paint well into her nineties with a passion for her craft and nature. She is noted for her plein-air painting while camping in the American West and its National Parks.
Mary Agnes Yerkes was born in 1886.  Her parents, Charles Sherman Yerkes and Mary Greenlees Yerkes, had moved to Oak Park a few years earlier from Ohio. Mary Agnes graduated from Oak Park and River Forest High School in 1906.
In 1913, her mother commissioned a house from architect John S. Van Bergen, who designed an upstairs art studio for Mary Agnes and some of the first floor's interior trim to frame Mary Agnes' mural paintings.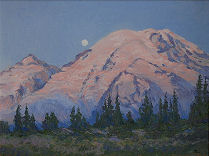 Mary Agnes took a two year course in art history and decorative design at Rockford College. She then studied at the Academy of Fine Arts, where she also taught, and at the currently named School of the Art Institute of Chicago. She had special painting instruction under Wellington Reynolds, John W. Norton and Walter Marshall Clute, and participated in numerous exhibitions, including the exhibits of Chicago Artists, and the American Watercolor Society at the Art Institute of Chicago from 1912-1915.
In 1917, she married Navy Commander Archibald Nelson Offley. They eventually took up permanent residence in San Mateo, California in the 1930s.
Mary Agnes mostly painted en plein-air but she also worked at home in a studio. Mary Agnes continued to paint the American West well into her nineties. She died in San Mateo on November 8, 1989 at the grand old age of 103. After decades of painting, over [150] of her paintings adorned her own walls at the time of her death.  
Excepts from Wikipedia