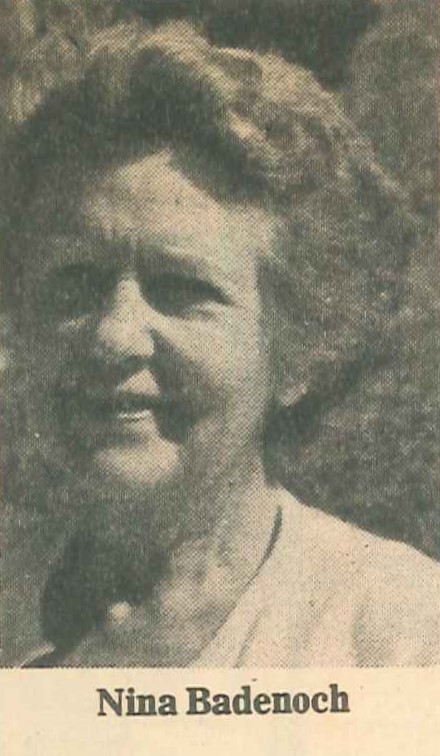 There is a long-standing tradition to name a significant home after the man who first lived in it and paid for it to be built, and River Forest has more than its fair share of such houses. However, the beautiful Tudor Revival style home at 555 Edgewood should be named for the woman who first lived there, for it was Nena W. Badenoch, not her husband Ben, who worked closely with architect William E. Drummond to design her dream house. Her goal was to "fill the needs of her family, avoid conflicts and build family happiness" according to her article entitled A House To Grow Up In which appeared in the March 1928 edition of Good Housekeeping magazine.
Nena Frances Wilson was born in Washington, Iowa, in 1889. After graduating from high school there, she came to Chicago to continue her education, majoring in Home Economics at the University of Chicago. It was there that she met her future husband, Ben H. Badenoch of Chicago, a fellow U. of C. student. They married shortly after she graduated in 1912.
After living in Chicago for a few years, the Badenochs (now a family of four) moved to 716 Bonnie Brae in River Forest in 1919. The need for a larger home became apparent in 1923 when they were expecting their third child. It was then that Nena Badenoch started working with Drummond to plan the interior of their new home on Edgewood Place. She believed children as well as adults, should have their own spaces, including their own bathroom. There was even a powder room at the front entrance, which was quite uncommon in the 1920s. One of her children complained to an Auntie, "There are too many places to wash your hands!"  
Nena believed in community service in River Forest, serving on the School Board when Roosevelt  School was built, belonging to the River Forest Women's Club and the First Presbyterian Church and serving on the River Forest Library Board when the library was built. She often said one of her most enjoyable experiences was to captain the first River Forest Girl Scout troop, established late in 1926.
But, in addition to her prodigious volunteer work, she carved out an impressive professional career as well. In 1921, she wrote a promotional series titled The Taylor Home Set for Taylor Instrument Company, a manufacturer of cooking instruments.  This was a guide to using Taylor instruments for roasting, baking canning, making jams and jellies and candies when customers bought the complete set of Taylor Kitchen Instruments.
Now the mother of three, Nena still found time to co-author a cook book with Anna J. Peterson published in 1924, entitled Mrs. Peterson's Simplified Cooking. It sold well over 100,000 copies. 
As a faculty member of the American School of Home Economics, Nena lectured on home economics all over the Midwest. She advocated for recognizing housekeeping as an economic contribution to the family as much as an external job would be, and argued persuasively that it therefore should be treated as employment. She published articles in numerous magazines and newspapers and wrote and produced radio shows about home economics. She was co-editor of as well as contributor to the 12-volume Library of Home  Economics: A Complete Home Study Course. In 1930, she wrote a charming children's book titled Ring: The Story of a St. Bernard, and a few years later wrote another children's book, Go Home, Puppy.
In the 1930s, the Badenoch family moved to the Boston area where Ben had taken a job, but before the decade ended, they returned to Chicagoland. Nena continued to pursue her career as a writer and professional home economist. She collaborated with Anna J. Peterson again to publish another cookbook entitled Delectable Dinners. It contains separate menus along with corresponding recipes and timetables to "save your time and simplify your daily household problems." The book "will be a special boon to housewives who are also business women, and to housewives whose social obligations are such that time consuming meal-planning is an abomination.  In the hands of your maid, this book takes your place in directing while you're away."  Nena herself was most likely the model for such encouraging statements on the back jacket cover. 
During World War II, Nena was co-chair of the Women's Coordinating Committee for Civil Defense, organizing and coordinating the war efforts of all women's groups in Oak Park and River Forest.  She lectured to community groups about "Efficiency on the Homefront," offering helpful suggestions for budgeting time and money and discussing the importance of food conservation in war time.     
She served as President of the U. of C. alumni club and in 1949, was awarded the Citation of Merit from the University of Chicago for her public service to the community, the nation and humanity – a well–deserved honor. 
After the war, she worked as the Director of Radio and Television Public Service for the Easter Seal Foundation.  A 1954 article in Forest Leaves newspaper reported that Mrs. Badenoch had been posted to New York for the current year and would leave soon for Europe to set up programs in advance of the society's September International Conference at the Hague. Mixing business with pleasure, Nena first toured several countries in Europe with her friend Besse Boynton, a founding member of the Oak Park River Forest Historical Society!
Nena  retired from Easter Seals in the late 1950s,  but she continued to stay busy. Recognizing that people of all ages and backgrounds have disabilities, she hosted a TV show on WTTW Channel 11 entitled Grandma's Kitchen, aimed at teaching  children with hearing loss how to cook. As a member of American Women in Radio and Television, she received a McCall's Award for her public service work for youth, bringing stories of children with disabilities and their needs to the public. 
In the mid-1960s Nena, now a senior herself, turned her talents to working with the Senior Citizens' Center of Oak Park and River Forest. In addition to serving six years on the Board of Directors, she was in charge of publicity and public relations. Among her greatest publicity triumphs was arranging for 35 members of the Center's chorus to travel to the studios of WGN Television to film a program of Christmas carols. The program was so well received that WGN ran it again the following year. She was also a leader of the Center's creative writing group and would fill in when the regular teacher wasn't available. 
Nena Wilson Badenoch remained active in charitable and community affairs almost to the end of her long life. She died on New Year's Day, 1985, at age 95. An incredibly talented and accomplished woman, she used her wide range of skills and interests  throughout her life to benefit people of all ages. What can we add, except to exclaim, "What A Woman!"