Robert St. John
Birth/Death Dates:
Resident Dates: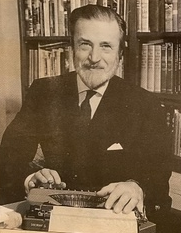 A librarian researching Robert St. John, an Oak Park-bred author, reporter, and lecturer, once said, "This is a man who's lived five lifetimes instead of one." The observation was a vast understatement
St. John, unknown to most Oak Parkers, was a World War I veteran who, with the help of his mother, lied about his age to enter the U.S. Navy at 16 and served in France. After being injured in the war, he returned to Oak Park, finished high school at St. Albans Academy in Sycamore, and became a local reporter for the Oak Leaves, Chicago Daily News, and Chicago American. At 21, he became part-owner and editor of the Cicero Tribune, becoming the youngest newspaper editor-publisher in the nation. St. John's stories exposing Al Capone's brothels landed him in the hospital after a brutal beating by Capone's men. Adding insult to injury, literally, Capone then bought out St. John's partners, forcing him to seek a quieter life in Vermont, where he spent several years as a farmer. He returned to national journalism in 1931 to cover Franklin D. Roosevelt's first run for president, the Lindbergh kidnapping, and other major stories.
St. John's family moved to south Oak Park in 1910 when he was eight, settling both literally and figuratively on what was then considered "the other side of the tracks," separated from more well-to-do residents. His memoir, This Was My World, devotes several chapters to his Oak Park upbringing, which he said gave him a profound sense of right and wrong and left him with lifelong lessons about impoverishment and the downtrodden stemming from being taunted about his family's low-income level while attending Emerson School (now Gwendolyn Brooks Middle School) and Oak Park High School (now Oak Park and River Forest High School).
One story of his Oak Park school days that St. John retold in interviews over the years was that, while in high school, he was an acquaintance and schoolmate of Ernest Hemingway, and both were in the same writing class. One day the teacher asked both boys to stay after class  and told them that neither would ever learn to write. Of course, both students proved their teacher wrong and went on to stellar careers as writers and journalists. St. John got his start and early training as a writer and journalist in and around Oak Park. As he put it, he learned "practical" journalism from the legendary editor of the Oak Leaves, Otto McFeely.
In 1939 St. John was in the Balkans when war broke out, and he witnessed atrocities against Jews, which he reported about in the press and his first book. He also bore witness to the indiscriminate bombing of civilians in Belgrade and Sarajevo. That "watershed" experience imbued him with a life-long commitment to exposing injustice and racism and the inhumanity of modern war.
After recovering from being shot in the leg by German planes strafing his small fishing boat during a harrowing escape in the Adriatic Sea, he returned to work as an NBC radio correspondent in London during the rest of the war, competing with the famed Edward R. Murrow. He reported on the Blitz in London, the D-Day invasion, the atomic bombings, and the war's end. After the war, he focused on Africa and the Middle East, especially the founding years of Israel. He traveled over two million miles giving lectures about his experiences with the savagery and heartbreak of war.
His second book on the Balkans The Silent People Speak drew criticism from one reviewer who noted his reliance on "communist sources" and called him "a subconscious follower of the party line". In the late 1950s he was blacklisted as a communist sympathizer and fired by NBC. He moved to Switzerland where, for 15 years, he wrote most of his books. He returned to the U.S. and continued his writing and lecturing on world events and as a researcher for World Book Encyclopedia.
St. John's humanitarian work included helping rescue Romanian Jews, for which he was honored by the U.S. Holocaust Museum in Washington, DC, and was the first reporter featured at an exhibit on war correspondents at the Smithsonian Institute. He authored 23 books, both fiction and non-fiction. Two books were national best-sellers, From the Land of Silent People, which exposed atrocities committed against Jews in the Balkans, and David Ben-Gurion, a biography of the founder of Israel. Due to the depth and breadth of his work, four universities awarded him honorary doctorate degrees.
St. John was still writing when he died in 2003 at the age of 100.
Submitted by Bob Messer, Michael Guerin, January 2022
---
New York Times, 2/8/2003, p. 15
Chicago Tribune, 2/8/2003