Virginia Cassin
Birth/Death Dates:
Resident Dates: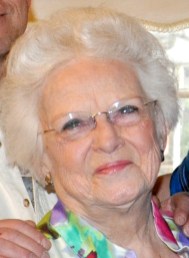 Although Ginie Cassin wasn't born in Oak Park, she was an Oak Parker through and through. When Ginie was three, her family moved to Oak Park from Beloit, Wisconsin. From that time on, she spent most of her life in Oak Park and made many contributions to her beloved community.
Ginie married William (Bill) Cassin, a World War II Army veteran, on Aug. 11, 1945. They raised eight children during their busy, happy 64-year marriage. Without a doubt, Ginie liked to be busy. In 1973, she became the village clerk for Oak Park, a role she held for 20 years. Ginie made local history by becoming the first woman to serve in that position. Over the course of her noteworthy career, she championed fair housing, racial equality, and women's rights among many other causes.
Ginie retired in 1993, but soon afterward took on the role of Board Chair for the Ernest Hemingway Foundation of Oak Park, where she served in various other capacities over the years. The Ernest Hemingway Foundation bought Hemingway's birth home in 1992 in order to restore his birthplace to how it looked when Hemingway lived there with his family. Ginie took on the overwhelming challenge of renovating the home, with a one million dollar grant from the state of Illinois as well as personal and business donations. Along with the many volunteers she recruited, the restoration committee completed the work to much acclaim in 1999.
Upon leaving Oak Park in 2018 to be close to her family in Minnesota, Ginie said: "I'll miss the good feeling of being from Oak Park and being a part of Oak Park. I feel it has been an honorable place to live, representing a good community with a lot of good people in it."
Ginie packed a lot of living into her 96 years, passing away on Oct. 16, 2020. While Ginie stood only five feet tall, she was a force to be reckoned with. The best way to describe this indomitable woman is small, but mighty. For years, she brought people together for the betterment of their community and her legacy will live on for years to come.
Submitted by Pamela Lyons, July 2021