William Drummond was born in New Jersey, but moved to the Austin area of Chicago in 1886. 
He studied at the University of Illinois before joining Frank Lloyd Wright's Studio, where he rapidly rose to chief draftsman.  Drummond helped take the responsibility of completing unfinished work when Frank Lloyd Wright abandoned his Oak Park practice in 1909. 
The years between 1912 and 1915 were very productive as he formed a partnership with Louis Guenzel and designed many River Forest buildings and homes.   Drummond designed the First River Forest Bank building, the River Forest Women's Club, and the River Forest Methodist Church.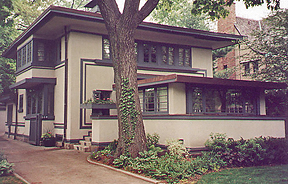 In 1915, Drummond entered a contest hosted by the Chicago City Club that involved the designing of "Neighborhood Centers for Chicago."  He won second place for his entry of a River Forest master plan.  He later revised his original plans, mapping out features and areas for commercial and residential growth. 
Drummond once said of his design, "Our villages and cities consequently are all quite similar and appallingly featureless.  The natural contour of the land must be respected, not violated."
In Oak Park, Drummond designed the Second Presbyterian Church on Washington Blvd. and in 1931, handled the renovation of the Rookery building in Chicago.  His First Congregational Church of Austin was done in the tradition of Frank Lloyd Wright's Unity Temple.