When the Japanese bombing of Pearl Harbor on Dec. 7, 1941 prompted the United States to enter World War II, Oak Park quickly turned its attention to supporting the war effort. 
On December 8, committees were formed as part of the Oak Park Civilian Defense effort to defend Oak Park and River Forest, with air raid wardens selected for each four-block area and high school seniors from Fenwick and Oak Park River Forest High School were tabbed as auxiliary fire fighters.  Thirty local doctors and 65 nurses offered their services.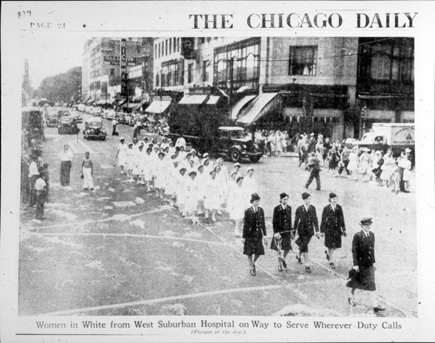 The "Nickel-a-Plane Club" was featured on the front page of the Dec. 25, 1941 issue of Oak Leaves.  Each time an enemy plane was shot down, members pledged to donate a nickel toward a fighting plane that would carry Oak Park's slogan and insignia into battle. Oak Leaves reported four "Jap Planes" were shot down between Dec. 18 and 23, bringing $42.40 from 53 members.
On Dec. 22, West Suburban Hospital staged a blackout to test preparedness if a real air raid came to Oak Park.  While not perfect, according to Oak Leaves, since "London's air raid precaution workers would have looked askance at the light that escaped from shaded windows and operating rooms where surgeons were reluctant to imperil patients for practice purposes," the exercise had a happy footnote.   "Oak Park's first blackout baby," Clifford Farrington Owen, was born.  The baby was described as a healthy redhead like his father, Charles Owen of 115 S. Humphrey.   Undeterred by last-minute Christmas preparations and rainy weather that same night, 300 Oak Park and River Forest residents came to OPRF High School for the kickoff meeting of the Red Cross Emergency War Relief Campaign.  The goal was to raise $75,000 in the villages as part of a $50 million national effort.  
Source:  Oak Leaves multiple December issues