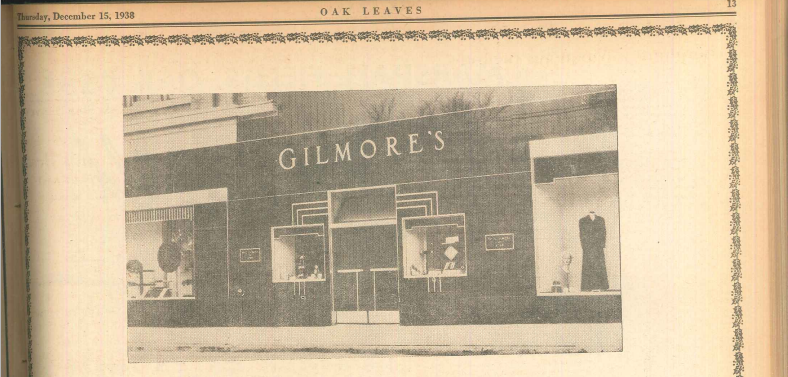 Gilmore's Closes Its Doors
On May 19, 1917, a new retailer moved to Oak Park. William Y. Gilmore purchased the Avenue Dry Goods Store at the corner of Lake Street and Oak Park Avenue. The store occupied a space 42' by 58' at the southwest corner of the intersection. Over the next 60 years Gilmore and his sons expanded not only the size of the store, but also the number and types of items for sale. Gilmore's, as it became known, grew to be a shopping tradition celebrated for its special events, customer service, and quality merchandise.
William Gilmore was well-suited to serve the growing community of Oak Park. He had been with Carson, Pirie, Scott for 22 years and knew the business from the ground up—wholesale and retail, domestic and foreign.  According to the Oak Leaves, "In this hour of economic struggle, he expects his knowledge of markets to benefit his customers and promises an up-to-date store and the most dependable merchandise."
Gilmore delivered on that promise. A savvy merchandiser, he frequently bought up stock from stores that were going out of business and sold the items at a discount in his own establishment. He used a variety of promotions to attract customers—from semi-annual "Dollar Days" to specialty sales and cash refunds. As businesses around him—a florist, a tailor, a men's shop—closed or moved, he took over the space enlarging his own store. Within 10 years he had expanded four times even adding a mezzanine within the store to display more merchandise.
His semi-annual buying trips to New York and vacations in Florida were excuses to acquire the latest fashions and colors ensuring that his customers would be among the stylish wherever they went. As the local paper noted, "He and Mrs. Gilmore have been wintering along America's Riviera and are certain that what is popular there will be popular in Oak Park this spring and summer."
When his sons joined him in the business after graduating from college (one with a degree in commerce and advertising and the other with a degree in retailing), the Avenue Dry Goods Store became Gilmore's Department Store. It offered women's accessories, cosmetics, dresses, coats, shoes, hosiery, and foundations, as well as men's clothing, furnishings, and suits. A tea room occupied the second floor. Many employees stayed with the company for years, and many families had two or three generations working at the store.
Service was stressed by the store's founder, and his sons broadened this philosophy to include the community at large, working with Oak Park civic, academic and cultural leaders for the improvement of the community. The store provided fashions for the annual Infant Welfare Society's fundraising event and donated 10 percent of sales to support the society.
By the 1970s, however, shopping habits had changed. Large suburban malls were drawing shoppers away from local stores. Gilmore's began to lose money and fell behind in payments to creditors. Despite efforts to reorganize under a court-supervised bankruptcy plan, Gilmore's found itself unable to carry on business as usual. The store's last day was December 31, 1976.
Submitted by Mary Ann Porucznik
Resources: Oak Leaves, May 19, 1917; Nov. 29, 1919; June 30, 1923; Jan. 12, 1924; Jan. 3, 1925; Feb. 27, 1926; May 12, 1966; May 19, 1976; Aug. 25, 1976; Oct. 20, 1976; Dec. 19, 1976; April 3, 1977; June 22, 1977