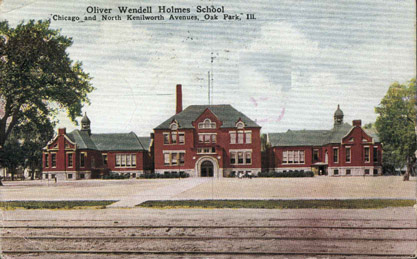 The imposing red brick school at the northeast corner of Chicago and Kenilworth in Oak Park was demolished in the summer of 1958 after a brand new modern Holmes School was completed next door at a cost of $1.1 million.  The site of the old school became a playground.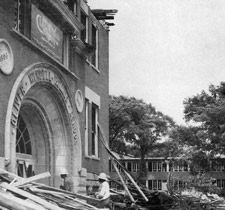 The central section of the school had been built in 1906, connecting two separate sections built in 1889 and 1890.  Oak Leaves called the school the oldest elementary building then remaining in Oak Park since older sections of other schools had been demolished prior to that point. Among the local residents who graduated from Holmes School was writer Ernest Hemingway and his siblings, and the children of architect Frank Lloyd Wright and his wife, Catherine.
The new school was the third building constructed in a 10-year, $8.5 million plan to "remodel, renovate or replace" each elementary school in the community between 1950 and 1960 to "provide Oak Park with elementary buildings comparable with the best in the country."  Designed by the noted Chicago architectural firm Perkins and Will, the new building had an orthopedic wing taking care of special needs pupils from Oak Park, River Forest, and Forest Park and was dedicated on October 17, 1958, according to a dedication program in the Historical Society's collection.