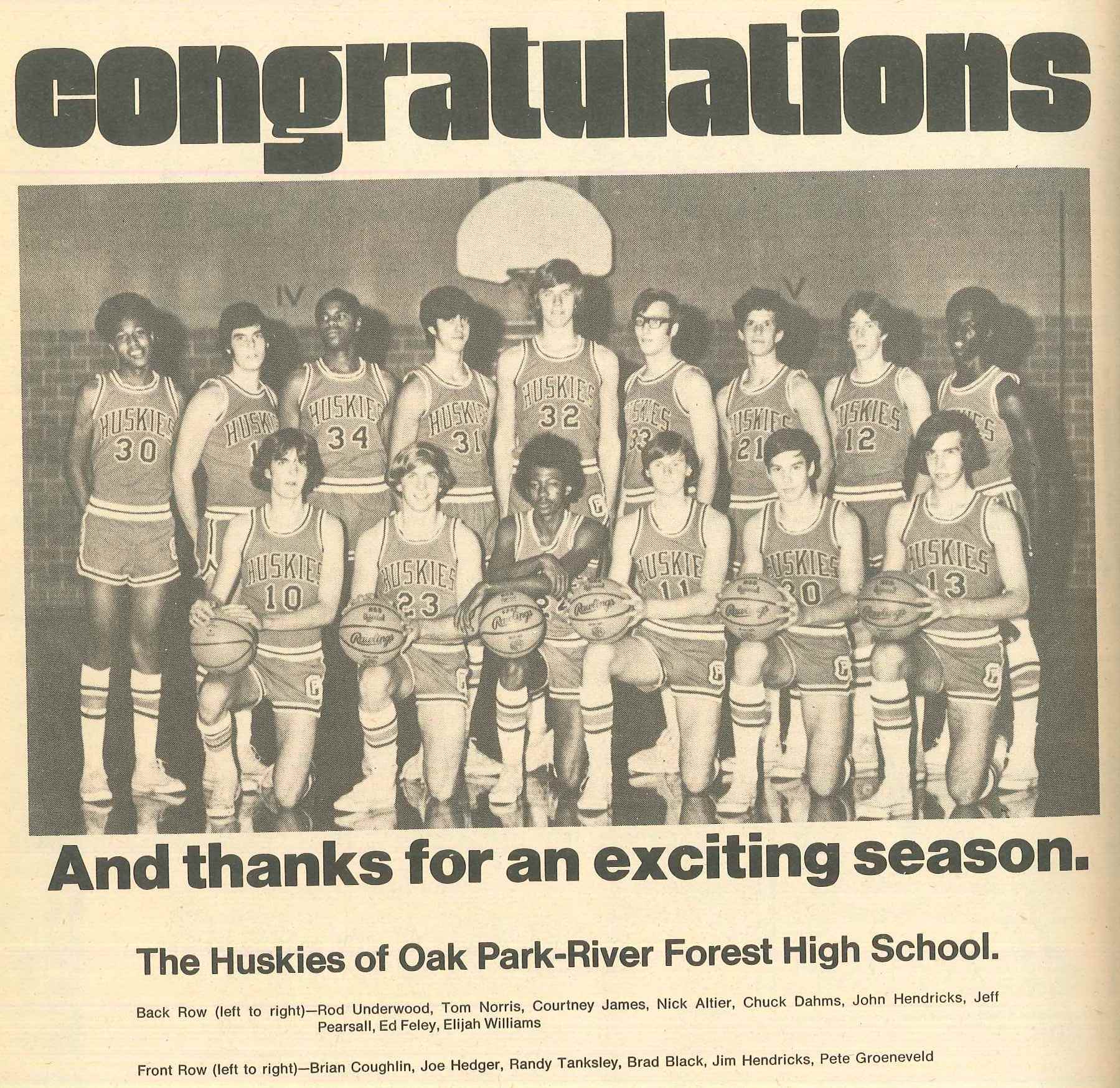 March Madness, 1976: So Close
The 1975-76 Huskies came closer to winning the state basketball championship than any OPRFHS team before or since. Coached by Tom Meyer, eldest son of legendary DePaul University coach Ray Meyer, this was a team that relied on speed, teamwork, and execution. One sportswriter, referencing their precision, the school colors, and a popular film of the era, dubbed them "The Clockwork Orange". The team powered its way through the schedule, winning its regular season conference championship and reaching the semifinal game in Champaign with a cumulative record of 27-4.
The Huskies faced Morgan Park High School of Chicago in the semifinal game. In a strange contest punctuated by a 15 minute mid-game delay due to a tornado warning, Morgan Park took a substantial early lead, but OPRF fought their way back to go ahead in the fourth quarter.  The Huskies seemed to be in control. With 1:28 remaining they were holding a 58-55 lead and were at the free throw line with a chance to increase the lead to 5. And then everything went wrong. They missed both free throws. Morgan Park sank a nearly impossible fade-away jump shot to cut the Huskies lead to 1 with 48 seconds to play. OPRF was called for a questionable charging foul while bringing the ball up-court. Morgan Park's worst free-throw shooter went to the line and hit both free throws to give the Mustangs a one point lead. With no time outs left, 20 seconds on the clock, and the ball out of bounds, the Huskies still had a chance. OPRF took the final shot with less than 15 seconds to play, but it missed and Morgan Park pulled down the rebound and ran out the clock. OPRF lost 59-58, having been unable to score a single point in the last 1:45 of the game.
Morgan Park went on to win the state championship with a narrow 45-44 victory over Aurora West, while the Huskies took third place, easily defeating Decatur Eisenhower 73-61.
Researched and written by Kurt Etchingham
Follow the links below to view other March Madness stories.