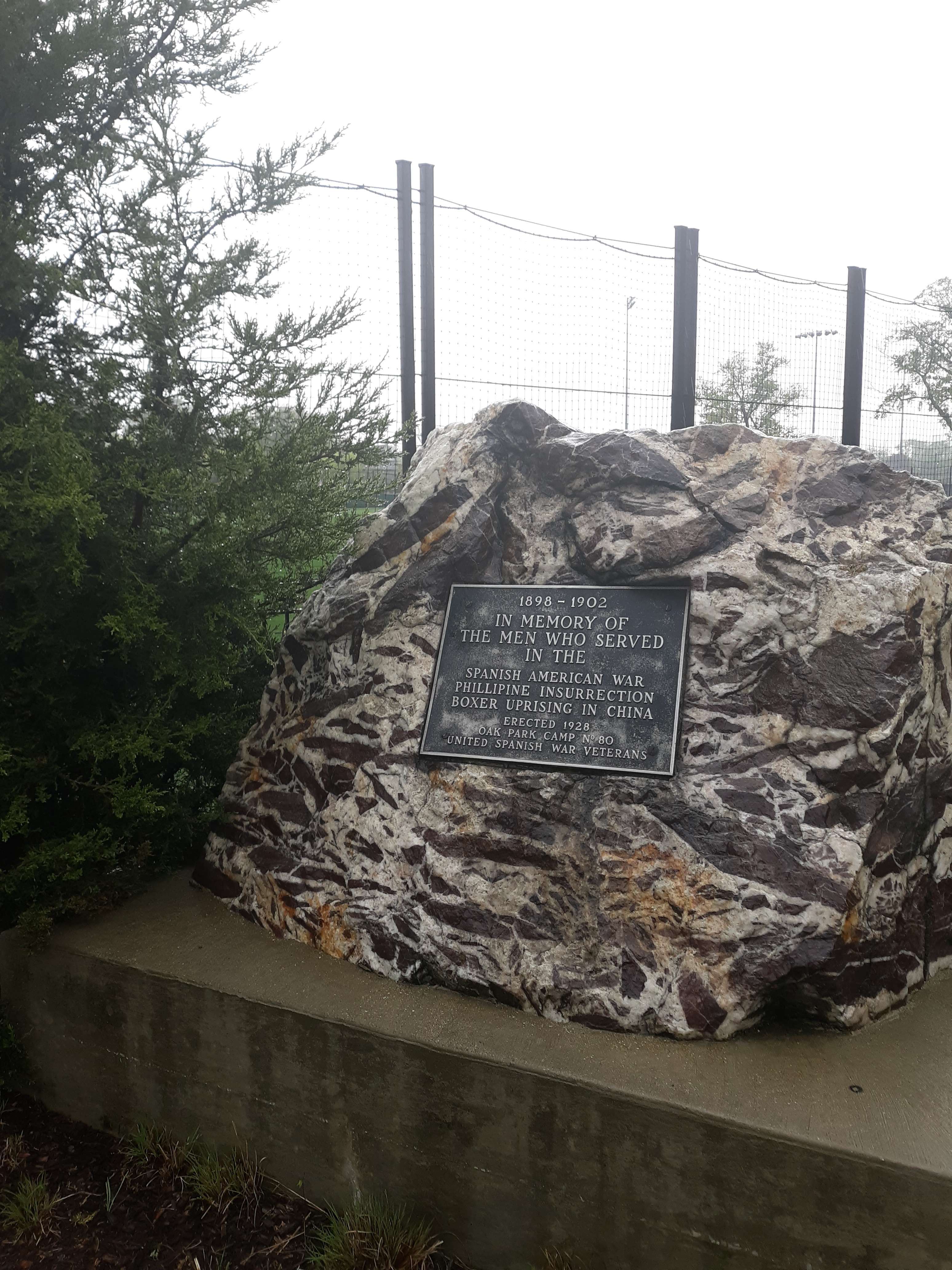 Mr. Bentley's Boulder
Ridgeland Commons is one of the busiest sites in Oak Park.  People come and go in all seasons, whether to swim, ice skate, or participate in one of the many fitness classes offered there.  The adjacent fields are often abuzz with soccer or softball games.  It is a familiar place--so familiar that what we see there can become just so much landscaping. For example, the great boulder, which serves as a war memorial, has a story all its own. 
Most of us can relate to visiting the beach, bending down, and picking up a stone that strikes us as interesting.  We bring these souvenirs home, admire them once again, and then put them away, usually someplace out in the back yard.  Like us, Oak Park's Walter G. Bentley did the same, but on a much grander scale.
In the 1880s, Walter Bentley enjoyed visiting Devil's Lake Wisconsin.  It was a special place for him.  Today, it is still a popular destination for vacationers.  Some come for the parks and resorts, to fish, swim, hike, and camp just as they did more than a century ago.  The area is also popular with those interested in geology as it is known for its varied topography.  Mr. Bentley's own interest in geology led to a long-lived legacy for the people of Oak Park.  He had long admired a boulder of remarkable size and beauty that lay adjacent to the railroad tracks leading to Devil's Lake. It would soon be bound for Illinois.
In 1894, as the moving company hired to transport it from the rail siding near Ridgeland Avenue drove the horse team and wagon up to their house on Scoville Avenue, Mr. Bentley's wife was likely taken aback by the 8-ton rock he had shipped home from his most recent visit to Wisconsin.  
An interesting rock--a geologic specimen relic of an ancient mountain range once running across what would become the state of Wisconsin--this was a piece of 1.7 billion year old Baraboo Quartzite, known for its unique reddish coloring. 
Plopped in their yard at 155 North Scoville Avenue, it was undoubtedly quite the topic of conversation among the neighbors.  Moved there with so much effort, there it would stay for the remainder of Mr. Bentley's life, a witness to his death in 1910.  And lay there it did for years after that until 1924 when Mrs. Bentley's offer of the boulder was enthusiastically accepted by the park board, and it was moved just down the street to Ridgeland Commons.  Its removal facilitated the expansion of the High School which was in the process of acquiring the Bentley property along with others on the west side of Scoville.
At first, the boulder was just appreciated as an interesting rock gracing a Ridgeland Commons that was more park-like than what we see today.  Its purpose would change in just a few years.
In 1925, to great and worthy fanfare, the Peace Triumphant Memorial (now referred to as the World War I Memorial) was dedicated in Scoville Park. Likely in the crowd were veterans from a generation earlier who, despite years of trying, had been unsuccessful in establishing a monument to commemorate their service in the U.S. military. 
Their efforts were finally rewarded in 1928 when Mr. Bentley's boulder in Ridgeland Commons was given its new purpose: to memorialize those who served in the Spanish American War, the Philippine Insurrection, and the Boxer Rebellion--three military involvements that had since been overshadowed by World War I.
Through the lens of today's worldview, the three events cited on the monument may be controversial, but the boulder itself is beyond controversy.  It's also a reminder of an Oak Parker's appreciation of beauty and his wish to bring home a piece of a special place.
Submitted by Frank R. FioRito, April 2020