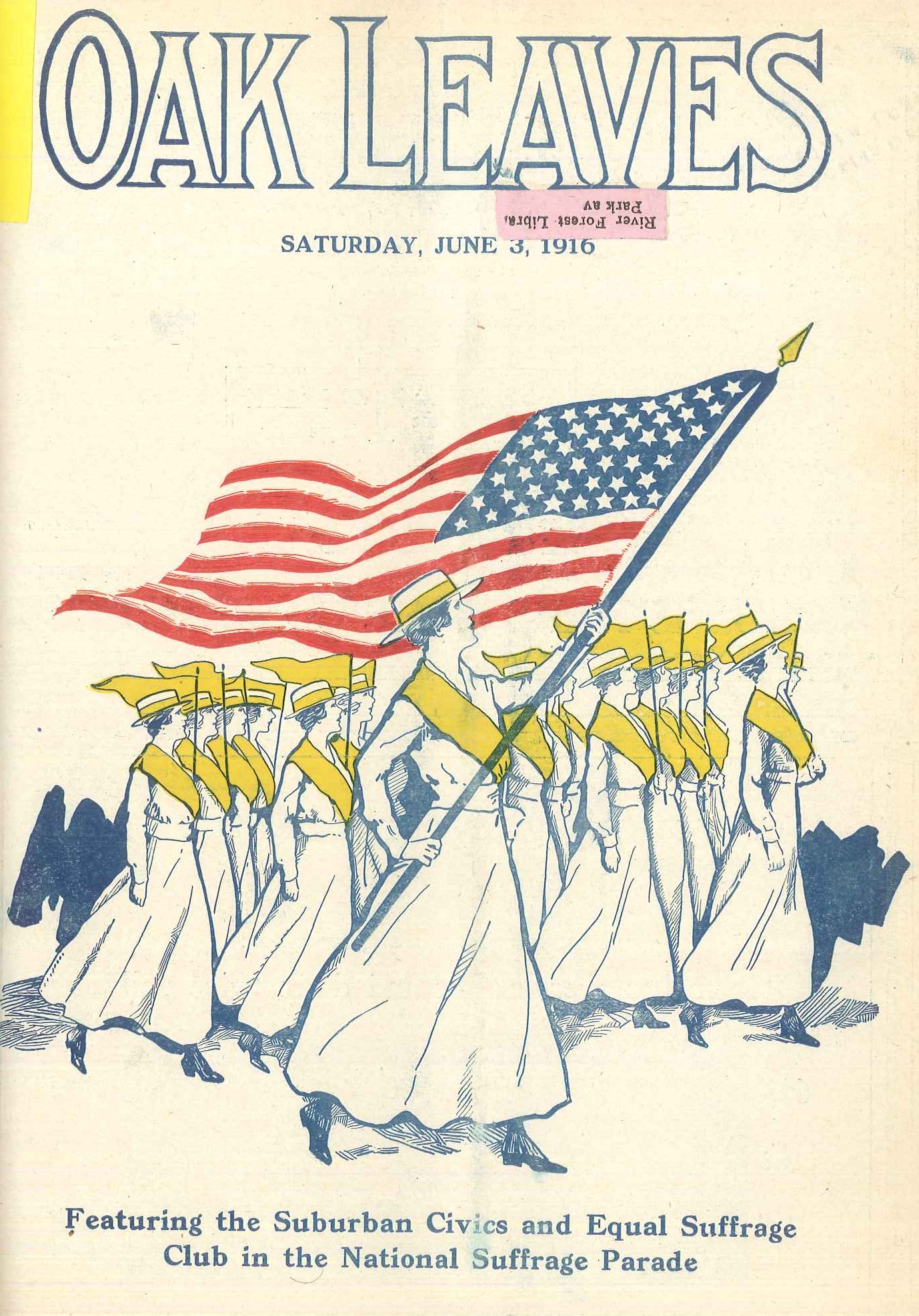 National Suffrage Parade Features Local Women
In early June 1916, the Congressional Union for Woman Suffrage, founded by Alice Paul and Lucy Burns, sponsored a convention in Chicago for women in the West who had achieved voting rights in their states. Illinois, as the only state east of the Mississippi River in which women could vote in presidential elections, served as an apt host. And Oak Park, home of Grace Wilbur Trout, who had led the campaign, was well represented.
The Republican National Convention was also meeting in Chicago that month, and the two groups had a momentous meeting on June 7. Despite the weather—it was pouring rain—nearly 5,000 women, including more than 200 from Oak Park, marched down Michigan Avenue to the Coliseum's convention hall. There, they burst in on the meeting of the Platform Committee, which had just heard from suffrage leaders from around the country, including Mrs. Trout. She later wrote, "Just as we finished our plea, the rain-drenched marchers made a dramatic climax by marching into the Coliseum where the hearing was being held."
Their presence turned the tide and, despite the efforts of the powerful Senator Henry Cabot Lodge of Massachusetts, the committee approved a full suffrage plank in the party platform. In addition, Republican presidential candidate Charles Evans Hughes endorsed the proposed "Susan B. Anthony" amendment to the U.S. Constitution.
According to the Oak Leaves, the Oak Park contingent led the Second Division, Fourth Battalion, of marchers, along with women from River Forest, Austin, Berwyn, Forest Park, Maywood, and other western suburbs. They were accompanied by the Maywood Boys' Band, under the leadership of Charles Mueller. Marchers were encouraged to wear white dresses, with a yellow sash and rosebud, and a white sailor hat with a yellow band, as shown in this image, which appeared on the cover of the Oak Leaves on Saturday, June 3.
Local marchers filled two cars of a special train on the Lake Street elevated. They included generations of women—grandmothers, mothers, and daughters, with the youngest representative (Carlina Sauter, 6 years old) being from Oak Park. According to Mrs. Charles Wilmot, the Oak Park Parade Chairman, "This will go down in history as one of the most important events of the century." Mrs. Trout concurred, saying, "All of the worthy deeds to be accomplished in the future are to be done by women and men working together."
Submitted by Mary Ann Porucznik, March 2019
References: Oak Leaves, June 3 and June 7, 1916
Sorensen, MW: Ahead of Their Time: A brief history of woman suffrage in Illinois
Trout, GW: Side Lights on Illinois Suffrage History, Journal of the Illinois State Historical Society, Vol. 13, No. 2 (Jul., 1920)