Proud Oak Parkers: The Early Years
Although the village harbored a large gay population, none were visible in public life in Oak Park. Gay issues were never part of the public dialog, never mentioned in local news articles, never included in public policies, never frankly discussed in schools. Gay people were simply absent from all areas of public life. It's hard for us today to remember how fearfully we lived in those days. Activism, "gay pride," open relationships: those were things most gay people saved for the city, for somewhere else...somewhere where no one knew us and we could be the people we wanted to be. To be openly gay in our own neighborhood, in our own community, was unthinkable. No one could guess the consequences of living openly as a gay man or lesbian in Oak Park.
Melvin "Mel" J. Wilson, The Beginning of OPALGA (1999)
The Oak Park Area Lesbian and Gay Association+ (OPALGA+) formed on March 23rd, 1989. Originally called the Oak Park Lesbian and Gay Association (OPLGA), the organization grew out of the wave of activism surrounding the AIDS epidemic in 1988 and 1989. In 1988, the community-based AIDS support agency, Community Response, was formed to support people with HIV in Oak Park. According to founding member Melvin "Mel" J. Wilson, Community Response's board meetings were the first time that gay people met with Oak Park leaders to address gay concerns in the community. In those meetings, gay and lesbian Community Response members recognized the need to address gay and lesbian concerns outside of the context of AIDS. It was clear to them that a new organization was needed to confront the real struggle for social change.
Following the Community Response board meetings, lesbian and gay concerns were brought to the attention of the candidates running for seats on the Oak Park village board in 1989. At the conclusion of a coffee house debate between the Common Sense Party and the Village Management Association (VMA), lesbian and gay community members met to lay the groundwork for a new organization. The following Saturday, the Oak Park Lesbian and Gay Association (OPLGA) held its first meeting to develop structure and establish immediate objectives. Those in attendance at the conclusion of the coffee house debate and at the first meeting included Melvin "Mel" J. Wilson, Nathan Linsk, Bryan P. Findlay, Joanne Trapani, Phil Bellerive, Ron Rauch, Rebekah Levin, Marsha Borders, Bob Trezevant, Jim Aull, Mary Davis, David Mann, Vivian Larson, Helen Kalcsits, and Bruce Broerman.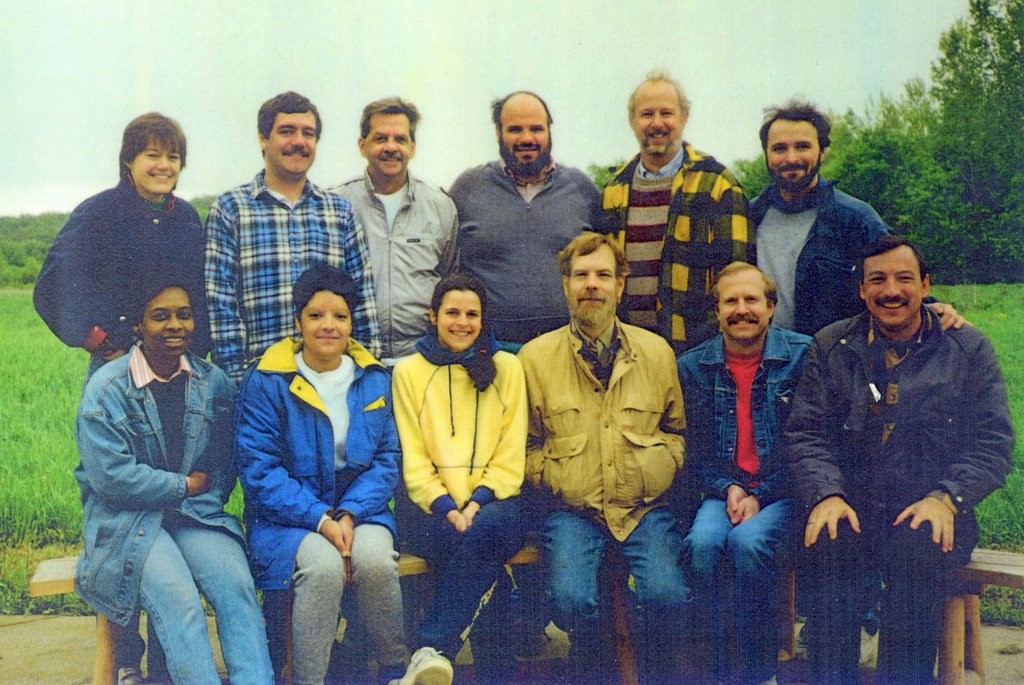 We've Always Been Here
Before the founding of OPALGA+, Oak Parkers were a part of many other local, low-profile gay and lesbian communities and organizations. Throughout the 1970s and 1980s, although Oak Park's LGBTQIA+ people remained hidden, known casual meeting places existed, including Val's Halla Records store and the Left Bank Bookstall. Lavender Bouquet, a lesbian support group, boasted a membership of 200 by 1989. Many Oak Park gay men belonged to the West Suburban Gay Association, which held socials in private Oak Park homes. The 12 +12 Club on Madison Street was home to one of two Chicago metropolitan area gay 12-step centers for addiction recovery. A local chapter of Parents and Friends of Lesbians and Gays (PFLAG), a support group for families and allies of gay and lesbian people, met in local churches. Oak Parkers were also active in Chicago-based gay and lesbian organizations, such as the Chicago Area Republican Gay Organization (CARGO).
Gay and lesbian Oak Parkers, reeling in the shockwaves of the Stonewall Rebellion of 1969, also asserted their presence in Oak Park's churches. Church activists spoke out against bible-based and anti-gay repression, affecting change from within Oak Park's Christian congregations, including Euclid Avenue Methodist Church, Good Shepard Lutheran Church, First United Church of Oak Park, Grace Episcopal Church, and Beacon Unitarian Universalist Church. In the years leading up to the AIDS crisis, these church-based activists built the foundations for the progressive changes to come in Oak Park.