A Store with a Mission
The business of the earliest days of Economy Shop were recorded in a small, leather journal. One of the first entries reads, "Early in March, 1919 a group of women was called together by Mrs. E. W. McCready to consider plans for opening an economy shop in Oak Park, similar to the 'Thrift House' in Evanston. All the proceeds from sales to be distributed to local charities. All present assented to the plan."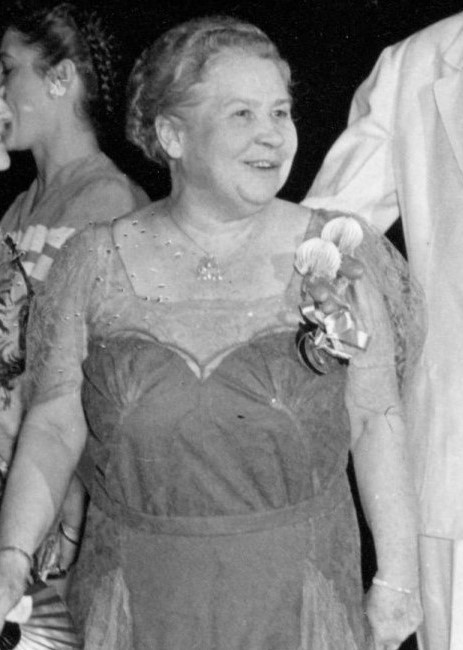 Then the real work began! A location was found, the first donations were solicited, and on May 19, 1919 the shop opened for business.
Thanks to these wise women, one hundred years later the Economy Shop remains a thriving enterprise, operating just as it did in 1919. In 1937 it was called "one of the most important contributors to the upkeep of Oak Park charities," and that sentiment is true today. 

The items in this exhibit represent each of the decades the shop has been open. They were all donated to the shop with the idea that they would be sold. When the exhibit closes, these items will be available at a silent auction to be held at the Shop on Saturday, June 8, 2019 from 9 a.m. to 3 p.m.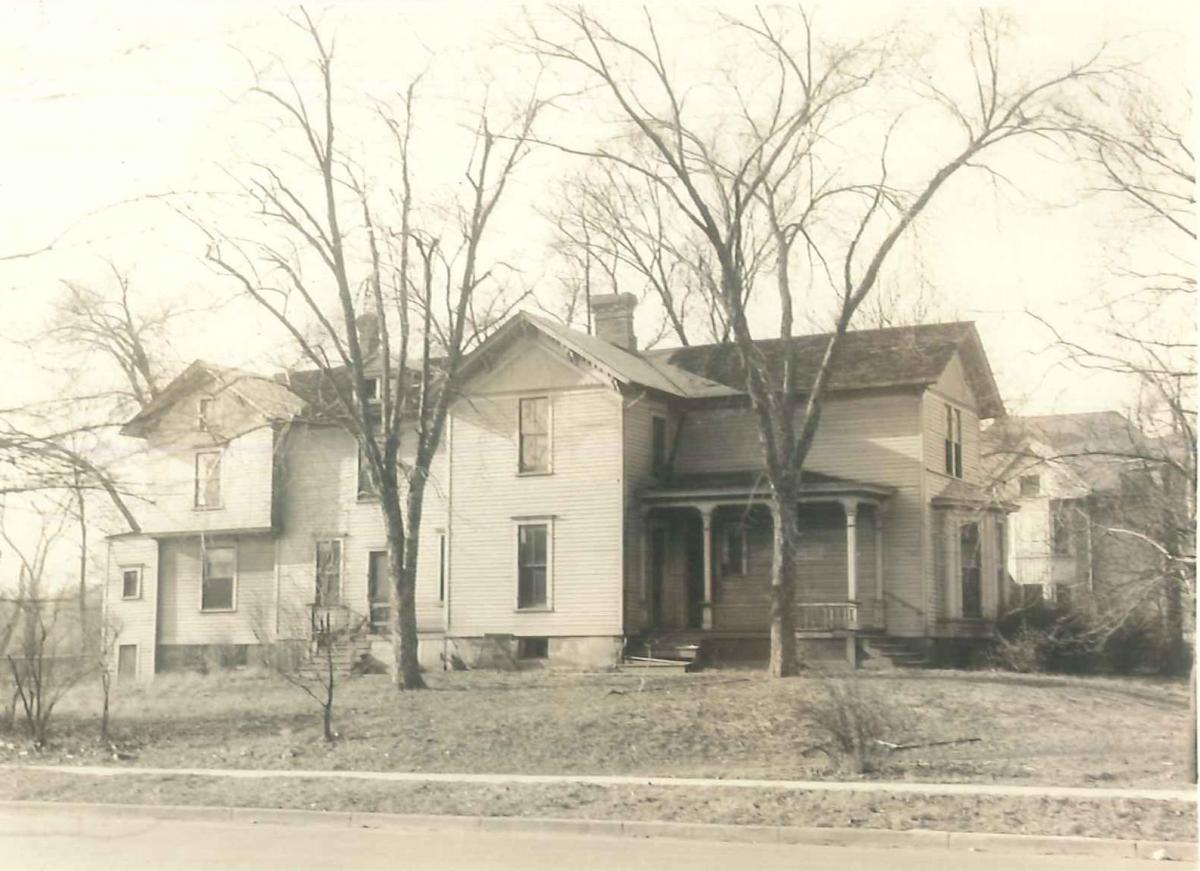 For the Benefit of Local Charities
By June 1929, over the span of just ten years in existence, Economy Shop had been able to donate $100,000 to the five local charities with which it was affiliated:
Associated Charities
Organized in 1898 by notable community women such as Mary Roberts, Elizabeth Charlton, and Catherine Wright, the group's goal was to promote the social environment of Oak Park and assist with families' immediate needs. Today its work continues at Thrive Counseling Center in Oak Park, providing behavioral healthcare, crisis and emergency services, comprehensive youth services, substance abuse prevention, and psychiatric rehabilitation services.
Charlton Day Nursery
Founded in 1912 by a group of women from the Nineteenth Century Women's Club, this organization was named in memory of Elizabeth Charlton and began in three rooms of Hephzibah Home. It moved to its present location at Randolph Street and Maple Avenue in 1926; today it's known as Oak Park & River Forest Day Nursery.
Hephzibah Home
Oak Park's oldest charitable organization, Hephzibah Children's Association was founded by Mary Wessels in 1897. It provides residential and foster care for children as well as services for families in crisis. Though no longer affiliated with Economy Shop today, this organization continues to thrive in the community.
Infant Welfare Society
Originally a chapter of the Chicago society, the Infant Welfare Society of Oak Park and River Forest was established in 1916 by Caroline McCready, first president of Economy Shop. Its mission was to provide "milk stations" where infants and children could receive uncontaminated milk. Today, the clinic at 320 Lake Street provides medical, dental, and behavioral health services to children from families in need.
West Suburban Hospital Women's Auxiliary
Founded when the hospital opened in 1914, this group of women provided free hospital care for needy patients and raised funds for new equipment and other special needs. It disbanded when West Suburban Hospital was bought by Vanguard Health Systems in 2010.
Today Economy Shop donates more than $100,000 annually, divided equally among six local charities, including three of the original agencies that have been supported for the entire 100 years. These six recipients are all great pillars of the community, as is Economy Shop, whose mission remains as it stated in 1924, "Come buy what others give, that Oak Park charities may live."
Recipients of Economy Shop Proceeds in 2019:


Then… and Now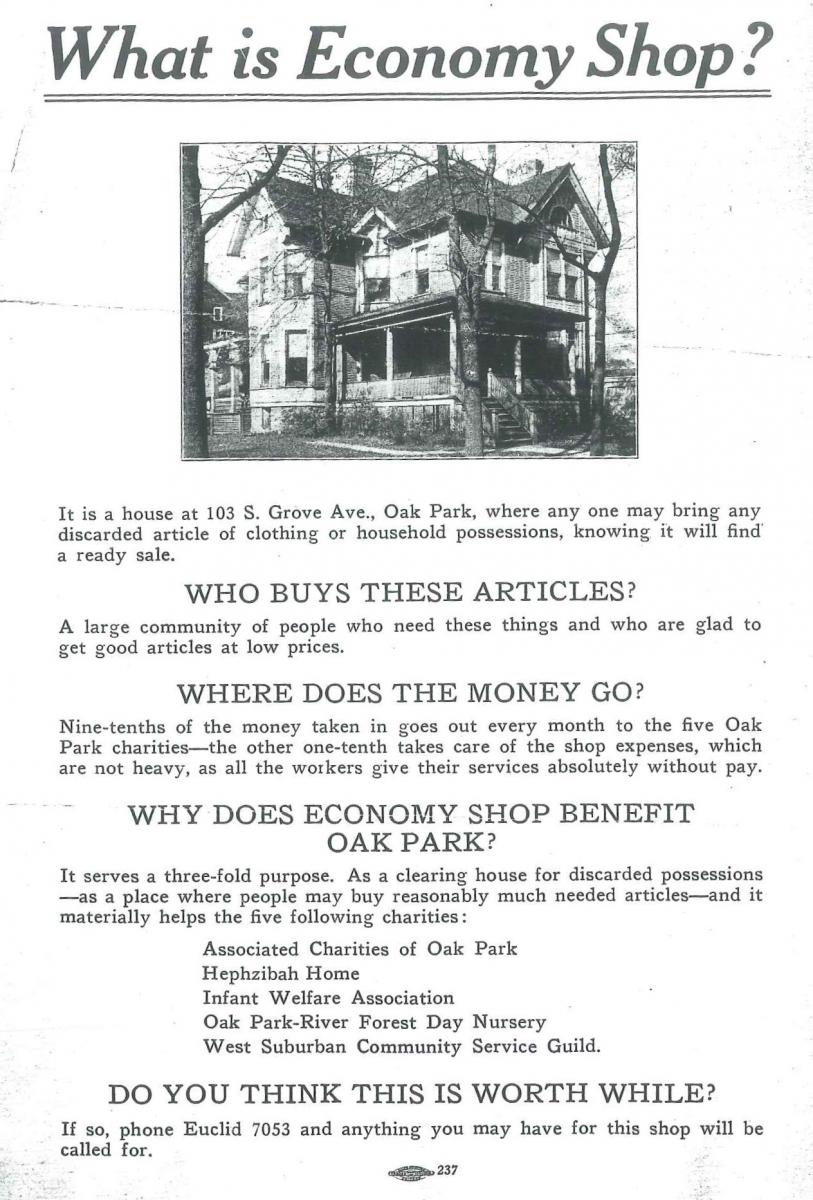 Sales are held at the Victorian house at 103 S. Grove three times a month from Fall through Spring. Each charity associated with the shop staffs one room with its volunteers. The other ten rooms are staffed with volunteers from the community. From its start, volunteers and organizers have been primarily women.
Donations are taken at the shop at designated times. Donated items are processed and priced by the shop's dedicated volunteers, who range in age from 16 to 92 and work an average of 620 hours to get the shop ready for each sale.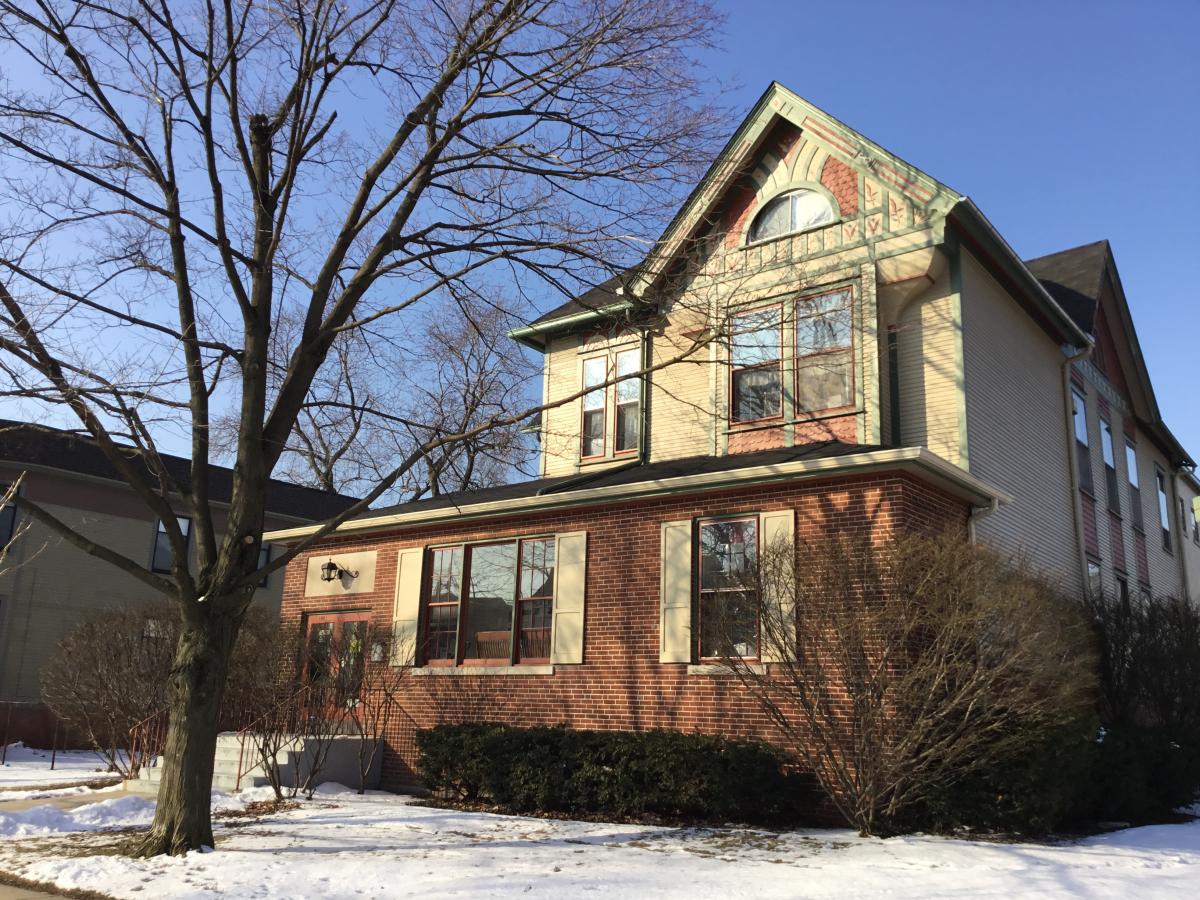 The video below features images of volunteers and customers at the Economy Shop through the decades.
Click here to view a special online exhibit, "Economy Shop: 101 Years of Volunteerism"